Best Printed Marketing Collateral of 2020
When you evaluate print companies based on the proper factors, then you're well on your way to producing fantastic print marketing collateral. Proper research to find the best 

print marketing collateral company

 involves comparing quotes to ensure getting a top quality product for the lowest price.
We have gathered information on the top 10 print marketing firms including user reviews and buying tips and made it easy to find the 
best price from companies in your area

.
Top Print Marketing Collateral Reviews 2020
| Rating | | | Year Founded | Location | Design? | Printing? | Mailing? | Compare Features and Prices |
| --- | --- | --- | --- | --- | --- | --- | --- | --- |
| | | ZUZA | 2004 | California | | | | |
| | | Print Resource | N/A | Massachussets | | | | |
| | | Pollock Printing | 1972 | Tennessee | | | | |
| | | Sun Solutions | 1983 | South Carolina | | | | |
| | | Ferrante & Associates, Inc. | 1988 | Massachussets | | | | |
| | | Delta Marketing Group | 1982 | Vermont | | | | |
| | | Image360 | 1990 | Georgia | | | | |
| | | Carqueville | N/A | Illinois | | | | |
| | | MultiGraphic Marketing | 1974 | Pennsylvania | | | | |
| | | Signature Print Services | 2001 | California | | | | |
Print Marketing Collateral Buyer Guide
"Here's my card, I'm looking forward to talking further." You've likely said something of the sort before handing over the most basic form of printed marketing collateral, your business card. Even in the digital age, print materials still play an important role in telling the story of your company and product. Brochures, one-sheets, and white papers all go a long way to closing sales and increasing customer loyalty.
When choosing a company to print your marketing collateral, make sure you take into account these key factors:
Quality – The look, feel and design of printed materials are almost as important as the content you put on the paper. When a prospective client grabs ahold of a brochure to research a purchasing decision, they should perceive quality and professionalism from your company, even before they read the first word. Have a conversation with printing companies about paper weight, paper type, finishes and all the other technical aspects that lead to a quality finish.
Design – Another aspect to consider when purchasing printed materials is design. Many professional printing companies also have services to assist you in the design and layout of your print collateral. If you need assistance with design, be sure to choose a company that expresses your company well. With every design the ultimate goal is a perception of value. Ask companies for examples of how they have achieved this for their clients in the past.
Price – The ultimate goal of any marketing initiative is to increase revenue and build brand equity. When it comes to price, your print budget should give you the greatest return on your marketing expense. Cheaper isn't always better, a poorly designed, difficult to read brochure is heading straight to the trash, as is your sales lead. Spending a little bit more on your print materials could boost the success of your print marketing significantly.
Customer Service – A company that sells printing services could have all three of the previously mentioned elements, but if they don't excel in the area of customer service, they shouldn't even be considered. If you are headed to a trade show to showcase your product and your immaculate print collateral is caught in a paper jam, then it's of no use to you. When looking for a company to assist you with print materials, they should offer more than a printer and some card stock. A great print company seeks to understand your marketing goals and connect them with their print expertise. They view the relationship as a partnership, not merely a transaction.
Next time you are handed a business card or brochure, pay careful attention to the initial reaction you have. Is it easy to read, well designed and made of quality materials? Did it catch your attention and give you sense of value? These are the impressions that you want to convey to your target audience. When you evaluate print companies based on the factors that have been discussed, then you're well on your way to producing fantastic print marketing collateral.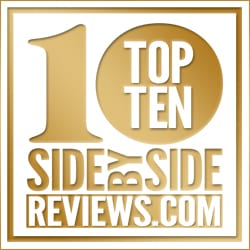 Is Your Business in our Top 10? Brag about it and post your Top 10 Badge on your website.
Find and compare the top ten print marketing companies and read customer reviews from these and other real people. Help us rank the best print marketing collateral firms and write your own review. Simply share your experiences at the bottom of this page.
Request Side-by-Side Quotes from Print Marketing Collateral companies to Compare and SAVE BIG
Which company, product or service do you think is BEST? WORST? Write your review here.
Printed Marketing Collateral Review
September 10, 2015