Best Aerial Lifts | Side by Side Reviews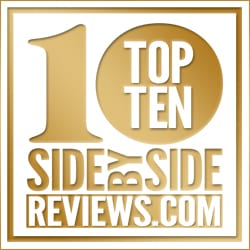 When it comes to finding an Aerial Lift, comparing quotes is the key to getting a top product for the lowest price.
We've gathered information on the top-rated aerial lifts, user reviews, and buying tips, and made it easy to get the best price from companies in your area.
Aerial Lift Buying Guide
Please take a few minutes to read the buying tips and reviews posted below to learn about other customer experiences (Good and Bad). If you need an aerial lift please consider taking advantage of our free service and get multiple quotes from suppliers that will fight to win your business.
Compare Aerial Lift Prices
Scissor Life Review
Boom Lift Review
Tips on Buying a Quality Aerial Lift
An aerial lift or aerial work platform is used to provide temporary, flexible access to typically inaccessible areas. These devices are used mainly in the construction field for assembly and maintenance purposes. Unlike other material handling equipment aerial lifts can reach high, extend out, and move side to side. The term aerial lift describes a broad selection of machines varying in size and shape, all with different specifications and features depending on the type of job the lift is catered towards. To determine what type of aerial lift you need first ask you're self:
• Are you working indoors or outdoors?
• What is your working height?
• What is your horizontal reach?
• What is your weight capacity?
• Is there a type of fuel or drive system preferred?
Types of Aerial Lifts
Generally lifts run from anywhere from $5,000 to $80,000 depending on their specifications. Types of lifts include:
Scissor Lift
Also referred to as table lifts, scissor lifts are hydraulic-powered platforms that go up and down with no horizontal reach. On average they reach about 20 to 30 feet with a 50-foot maximum. Scissor lifts are commonly used for manufacturing and production including construction, vehicle repair, agriculture industries, and interior warehouses. The main advantage of using a scissor lift over other types of aerial lifts is that it elevates a larger workspace and has a higher weight capacity.
Spider Lift
Spider lifts range in size for large industrial, rough-terrain use, or compact narrow interior projects. These aerial lifts use stabilizing legs that are extended to steady the platform. They are able to be operated by a single person and come in 3 height ranges.
Personnel Lift
Personnel lifts combine the portability of a ladder with the stability of an aerial work platform. With reaching heights of 50 feet and lifting up to 30 pounds, these single-user aerial lifts give steadiness and ease of handling when working on fragile surfaces. These lifts are compact and towable, typically used indoors for maintenance purposes.
Boom Lift
Boom lifts can reach up, down, frontwards, backward, sideways, and up and over making them the most versatile of all aerial lifts. Variations include:
• Telescopic booms give extended reach capability, operable from the work platform, even when extended. They reach up to 140 feet, offering a greater horizontal outreach than any other type of aerial platform.
• Articulating booms are a type of crane that uses hydraulic cylinders to raise and lower and allows a driver to maneuver the boom in any given direction directly from the work platform without lowering the basket. Used for reaching higher points.
• Trailer-mounted booms have built-in towing capability. The compact design and lightweight maneuverability make it a perfect choice for busy job sites both indoors and out.
Cherry Picker
Vehicle-mounted cherry pickers were originally developed so that workers could pick high-hanging fruit. They have now been adapted for indoor and outdoor use, from construction to commercial applications. The platform height can reach heights over 80 feet and can be used as a static base.
Attachments and Accessories
Lift accessories and attachments are available to increase the safety and enhance the functionality of your aerial lift. One lift can be used for different tasks with the addition of an attachment. Remember to always double-check with your dealer before purchasing additional accessories and attachments to be sure the model you are looking at can support them. Accessories include:
• Welding Package
• Glazier Package
• Cutting Package
• Panel Carrier
• Pipe Rack
• Deck Extension
Safety
When using an aerial lift your safety, and the safety of your employees is paramount. In addition to fall protection, there are other safety features that are built-in or can be purchased to boost the safety and security of your personnel as they operate an aerial lift. When purchasing an aerial lift consider also getting:
• Static Straps
• Level Warnings
• Manual Descent Valve
• Pothole Protection
What to Ask the Dealer or Manufacturer
Make sure you know the weight capacity and working height of the lift. You'll also what to know if there is training available for you and your personnel to learn how to use the new equipment if there are warranty packages available, what safety features are included, and what kind of long-term maintenance and repair is needed. So make sure you ask about:
• Financing options
• Safety features
• Training resources and courses
• Warranties
• Maintenance and repairs
With a little research and consideration of features and functions, you're sure to find an affordable aerial lift that suits your needs and helps you do your job safely and efficiently.
We invite you to share your personal experiences on the Aerial Lift Review forum listed at the bottom of this page, and if you are looking to compare competitive prices on postage machines now, simply let us know below.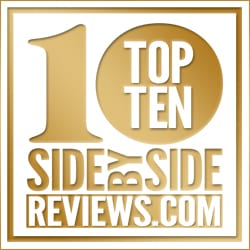 Is Your Business in our Top 10? Brag about it and post your Top 10 Badge on your website.
Find and compare the top ten Aerial Lifts and read customer reviews from these and other real people. Help us rank the best Aerial Lifts and write your own review. Simply share your experiences at the bottom of this page.
Request Side-by-Side Aerial Lift Quotes to Compare and SAVE BIG.
Which company, product or service do you think is BEST? WORST? Write your review here.