Best
Rough Terrain Forklifts

| Side by Side Reviews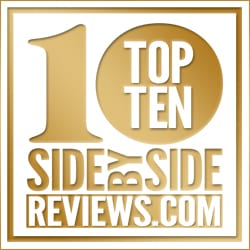 When it comes to finding a rough-terrain forklift comparing quotes is crucial to getting a top-quality product for the lowest price.
We have gathered information on the top 10 rough terrain forklift manufacturers including company history, user reviews, and tips, and made it easy to find the best price from companies in your area.
Rough Terrain Forklift Reviews
| Rating | | Manufacturer | Year Founded | US Based Company? | Compare Prices & Features |
| --- | --- | --- | --- | --- | --- |
| | | Edwards Equipment Co, Inc | 1970 | | |
| | | AirWorx Construction Equipment & Supply, LLC | 1996 | | |
| | | Master Craft Industrial Equipment | 1979 | | |
| | | Manitou Americas, Inc. | 1973 | | |
| | | Gradall | 1997 | | |
| | | Sellick Equipment Limited | 1969 | | |
| | | JCB | 1987 | | |
| | | Mitsubishi Forklift Trucks | 1992 | | |
| | | HARLO Rough Terrain | 1937 | | |
| | | Wiggins Lift | 1953 | | |
All-Terrain Forklift Reviews
JCK Forklift Review
Compare Rough Terrain Forklift Manufacturers
Rough Terrain Forklifts
Buying Rough Terrain Forklifts
Forklifts are powered industrial trucks used to lift and transport materials over short distances. Rough terrain forklifts are able to move materials over unstable, rocky, and tough-to-navigate surfaces thanks to their heavier construction and rugged tires. These forklifts are primarily used outdoors, common on farms and construction sites. They can be used to unload supplies, transport them to a site, or lift materials to roofs, and different levels. Prior to purchasing a rough terrain forklift, a little research is necessary to ensure you are choosing the most beneficial lift you're your situation.
Forklift Parameters
Before you begin talking to dealers and manufacturers determine what exactly you need your forklift to do. To find the best forklift for your needs and situation first determine the typical load size and weight the lift will be used for. Knowing the average dimensions and weight of your loads will help you better work with dealers to determine the exact capacity you need. Rough terrain forklifts are rated according to how much weight they are able to carry, ranging from 3,000 to 35,000 lbs. A 5,000-lb model is the industry standard.
Next, figure out the size of your typical load to determine the capacity you need will need. Forklift capacity is usually based on a 24-inch load center – this means that the distance from the center of gravity to the sides of the load is 24 inches. Consider also variation in your loads, if load size changes over time buy a lift with more capacity than you need currently to make sure it gets the job done now and in the future. For loads that are unusually long or high, the forklift will not be able to safely lift up to its maximum weight.
Knowing the height of your primary need for your forklift is vital as well. In most cases, rough terrain forklifts do not need much height if you are mainly using the lift to unload trucks. If you need to reach high shelves, or platforms a lift with a higher reach may be necessary.
Types of Rough Terrain Forklifts
Rough terrain forklifts come in two basic configurations designed to handle different types of loads and lifting operations.
Vertical Mast
The most common is rough terrain forklift is the vertical mast, which closely resembles a standard indoor forklift. It features vertical support located in front of the driver, with tines that extend out parallel to the ground.
Variable Reach
Variable reach lifts feature a telescoping boom and offers greater flexibility. The addition of the boom allows the operator to lift materials over obstructions or around obstacles. The ability to reach out in front of the forklift also allows for more precise placement of a load.
Truck or Trailer Mounted
Some rough terrain forklifts come with the ability to be transported to the job site mounted on a carrier to the back of a truck or trailer. These are used to unload heavy items from the truck/trailer at a job site.
Attachments & Safety Features
Rough terrain forklifts offer far more additional features and attachments available than standard forklifts. Attachments tailor your forklifts to better handle specific types of materials, add comfort and other functionalities. Attachment options and upgrades include:
Sideshift
Tilt Mast Hook Plate
Fork Extension
Boom or Telescopic Boom
Lifting Beam
Drum Snatcher
Man Basket
Roll and Barrel Clamp
Pole Attachments
Fork Positioner
Rotator
Most all attachments are standardized so they can be used on any forklift, but always be sure an attachment is compatible before purchasing. And be sure to check the capacity plate outlining the forklift's capabilities, most attachments will reduce load capacity.
As with any large piece of equipment, safety should be your top priority. Keep in mind that state regulations for safety features can vary, but all forklifts should be equipped with headlights, flashing amber lights, and back-up beepers.
What to Ask your Dealer or Manufacturer
When comparing multiple dealers and forklift manufacturers there are a couple of questions you want to make sure you ask. These will help you find the dealer that best fits your needs.
How long have you been in business?
Are there any brands you specialize in?
What level of inventory do you keep on-site for parts replacement?
How fast is your average turnaround for parts that have to be delivered?
How many certified forklift mechanics do you have?
How many machines have you sold in the last year? How many are similar to the one I'm interested in?
Do you provide service plans? Is there an on-site service available?
What are your service hours?
Do you have a guaranteed response time?
What kind of insurance do you carry?
Are you familiar with the EPA regulations for the area?
Also, ask about employee training. The Occupational Safety and Health Administration (OSHA) has very specific guidelines and rules for operating, training, and licensing forklift operators. OSHA certification requires that forklift training consists of a combination of formal instruction, practical training, and evaluation of the operator's performance in the workplace. Your dealer may offer training either at their location or on-site at your company.
To ensure you are choosing the right rough terrain forklift for your job, be thorough through every step of your buying process. Take your time researching forklift features and have your dealer clearly layout the compliance and capabilities of the machine for you. If you follow these steps, you'll be able to purchase with confidence, knowing that the rough terrain forklift you have chosen will be a lasting, high-quality addition to your workplace.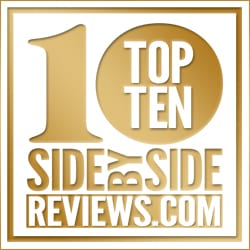 Is Your Business in our Top 10? Brag about it and post your Top 10 Badge on your website.
Find and compare the top ten manufacturers of rough terrain forklifts and read customer reviews from these and other real people. Help us rank the best scales and write your own review. Simply share your experiences at the bottom of this page.
Request Side-by-Side Rough Terrain Forklift Quotes to Compare and SAVE BIG
Which company, product or service do you think is BEST? WORST? Write your review here.
Best Rough Terrain Forklift