Best

Forklifts

| Side by Side Reviews

When it comes to finding New or Used Forklifts for sale comparing quotes is the key to getting a top product for the lowest price.
We've gathered information on the top 10 lift trucks, user reviews, buying tips, and made it easy to get the best price from companies in your area.
Top 10 Forklifts By Brand
You'll see many different brands during your search for the right forklift. Choosing one over another depends on your needs. Let's take a closer look at some of the best options out there!
Toyota
No, they don't only make trucks and economical little cars. Toyota also manufactures some of the best forklifts on the market.
When creating their forklifts, Toyota focuses on safety, efficiency, and comfort. Their variety is helpful too; customers can choose from electric forklifts, high-capacity forklifts, and more.
Whether you're working on rough terrain or a smooth warehouse surface, Toyota probably has an option for you.

Kion Group
Several brands are manufactured by the Kion Group. These include Fenwick, Voltas, and STILL.
If you're looking for American-made trucks, these aren't for you. The company is based in Germany and offers high-quality forklifts that will help you get the job done right.

Mitsubishi Logisnext
Newer to the high end of the list, Mitsubishi Logisnext produces several high-quality forklifts.
Choose from several types of forklifts according to your needs. Standard forklifts are available, as well as high lifts, low lifts, and more.

Jungheinrich Group
Like Kion Group forklifts, the Jungheinrich Group forklifts are manufactured in Germany. They're meant to keep your business up and running.
Replacement parts are ready to go when you need them. Until then, feel free to run your forklift for 16 hours straight if you want – the battery will last that long.

Hyster-Yale Materials Handling
Hyster-Yale Materials Handling is an America-based forklift manufacturer has been around for almost 100 years. It offers several options, which are sold under the Hyster and Yale brand names.
The company sells forklifts under other brands as well, but these two are their primary brands.

Crown Equipment
Crown Equipment offers several styles of forklifts to meet your various needs. They can be used indoor or outdoor and are well-made machines.
Crown has headquarters in several countries across the globe.

Anhui Heli
Anhui Heli is a China-based company. They produce internal combustion and electric forklifts as well as other vehicles.
Looking for explosion-proof forklifts? Anhui Heli has them.

Doosan
Though newer on the scene than some of the companies on this list, Doosan has a fair bit of history behind them. Founded in 1960, this Korean company offers multiple kinds of forklifts including electric and diesel-powered.

Komatsu
Komatsu is focused on taking care of your business. To do this, they offer several types of forklifts.
Do you need an IC cushion forklift? Or do you work in narrow aisles? Komatsu's got you covered.

Clark Material Handling
When it comes to quality forklifts, Clark Material Handling knows its stuff. They've been making forklifts for more than a century, so they've definitely proved their reliability.
Clark offers several classes of forklifts. This makes it easy to find one that fits your needs. Their products are great for both indoor and outdoor use.

Are you looking to purchase a forklift? Here's what you need to know.
Choosing a not-so-great forklift could result in another purchase sooner than later.
Choosing the right forklift shouldn't be tricky. You simply need to know a bit about them and consider your specific needs.
What should you look for when buying a forklift? What types are available? These are great questions to keep in mind.
To help you make the best decision, we've compared your best options. Here are the top ranking forklifts and a bit about them in general.
Top 5 Forklifts By Make and Model
Alright, so those are the top brands in the forklift industry. Which are the best out of the forklifts themselves? Let's take a look at five of them.
STILL RX 20
The STILL RX 20 forklift offers great handling as well as versatility. It's powered by two types of batteries.
Maneuverability is great, which helps make the truck safer. This model can be used indoors or outdoors.

MOFFETT E-Series
The MOFFETT E-Series electric truck-mounted forklifts are perfect for companies looking to reduce their carbon footprint. They're completely electric, which means they don't release any emissions.
These machines can lift up to 2,000 kilograms and are powered by lithium-ion batteries.

Jungheinrich ECE 225
This forklift fits into the order picker category. The Jungheinrich ECE 225 is semi-automatic and can be operated via remote control.
Its special technology allows it to follow its operator wherever he or she leads it.

Combi-MR
The Combi-MR forklift offers a multi-directional reach. This helps provide additional safety for the person who's operating it, as well as other people in the surrounding area.
The Combi-MR is meant for working in small spaces, so it's designed to excel in that sort of situation.

Crown FC
The Crown FC forklift is a top-rated forklift, electric product, and it can lift up to 6,500 pounds. Maneuverability is one of its key features. Handling corners is a breeze in this smooth-actioned forklift.
This machine can lift loads as high as 312 inches.

Types of Forklifts
There are several different types of forklifts. The one you should get depends on your specific needs.
In order to make the right choice, you'll need to do some research. So here's some info about a few of the types you're likely to encounter in your search.
Industrial Counterbalance
This type of forklift is the most commonly used. It works for outdoor and indoor situations.
Though, if you choose to use it outdoor, keep it on stable surfaces. This model isn't meant for rough terrain.
What makes it so popular? For one thing, it's easy to operate, which makes it simple for use in stores and warehouses.
Within this type, you'll find a few different subcategories, so research this type of forklift thoroughly before making a decision.
Rough Terrain Forklifts
This type of forklift is specifically designed for use in non-flat areas. This makes it ideal for construction work. Stability is extremely important when it comes to forklift safety, so never use a forklift on uneven terrain that isn't specifically built for it.
Not only do they handle rough terrain well, but they also transport heavy loads while doing it. They're powerful and fast, and they move well and hold up to rigorous outdoor use.
Depending on the model you choose, your rough terrain forklift may be able to lift up to three tons.
Industrial Reach Trucks
Industrial reach forklifts are meant specifically for warehouse work. They offer extra lift height, which is perfect for working with storage that's placed higher up.
Like with the industrial counterbalance trucks, you'll find some subtypes here. They include double-deep trucks, which feature extra-long forks, and stand-up trucks.
Industrial Side Loader
This type of forklift features forks that come from the side instead of the front of the truck. There are models specifically for outdoor or indoor use.
Some trucks of this type can operate in multiple directions. The wheels rotate, which makes maneuvering in any direction a breeze.
Why would you want a side loader? They're great when dealing with awkward loads (long or wide) and operating in narrow workspaces.
Order Pickers
This type of forklift is a bit simpler than some of the other models you'll find. Instead of providing a fully enclosed riding area for the operator, there's simply a standing area.
Order pickers are great for going down narrow aisles and can lift up to 5,000 pounds.
Truck Mounted
If you'd like a forklift that's easy to move around, a truck-mounted model might be right for you. They are usually mounted to a truck or trailer.
These forklifts lift up to 5,500 pounds and can be used for a variety of projects.
If you're wanting a four-wheel option, this isn't the one for you. Truck-mounted forklifts come in two-wheel and three-wheel drive.
Walkie Stackers
You have two control options with this type of forklift. You can either ride on it or walk behind it. Whichever way you choose to operate it, you'll be able to move loads up to 5,000 pounds.
Extra-long forks are available for lifting two pallets at once. This type of forklift is only for use over short distances, and it only lifts a few inches in height.
What to Look for When Evaluating Forklifts
When comparing forklifts, it's important to keep some things in mind. The way the forklift is powered, what type of work it's meant for, what terrain it can handle, and more should be on your list.
Always keep your specific needs in mind when shopping for a forklift. Take note of what your forklift needs to be able to do, then look for one that matches your list.
If you're shopping for a used forklift, you'll have some additional things to worry about. Check to see if the model is still in production. If it isn't, that means you may not be able to find replacement parts for a reasonable price.
Make sure the forklift has been cared for well. Request maintenance records and look for evidence that maintenance has been performed.
Whether you choose a used or new forklift, always take it for a test run. Make sure the machine handles well, has built-in safety features, and it's simple to use.
Try taking the forklift around sharp corners and into small spaces. If it doesn't meet your needs, then choose something else.
Some forklifts are much larger than others. Consider the size of each forklift and select one that meets your circumstantial needs.
Don't forget to check reviews. Just because a forklift is advertised as being fantastic, that doesn't mean it is.
What Load Capacity Can Forklifts Handle?
Different forklifts have different load capacities. The load capacity is the maximum amount of weight the forklift can safely handle. In order to lift a max load, the machine must be operated correctly.
Smaller forklifts may lift only around 3,000. If you're looking for more, you can find forklifts that lift loads weighing more than 100,000 pounds.
Consider the heaviest load you're likely to need to lift when purchasing this kind of machine. If you don't need to lift 70,000 pounds, then don't worry about paying extra for the ability.
How Safe Are Forklifts?
Forklifts can be dangerous. But, just like any other type of equipment, if they're used properly, they can be absolutely safe.
Proper training is the key to safe forklift use. Anyone who operates forklifts needs to be trained to use them correctly. All people who choose to be around forklifts need to be aware that injury or death could result if they don't act appropriately.
Employers and drivers alike should remember that forklifts are not the same as regular automobiles. Therefore, they shouldn't be treated as such.
Specific training should be given by operators. Never allow untrained employees to use your company's forklifts.
There are nearly 100 forklift-caused fatalities per year. Don't let your company be one that has to deal with that.
Don't use scare tactics when training your employees. Teach them to respect the machine and operate it properly to avoid accidents.
When purchasing forklifts, check with trustworthy reviewers first to make sure your machines are easy to operate safely.
Choose Your Forklifts the Right Way
When it comes to forklifts, you have lots of options. There are several reliable brands, and within each brand, you'll find different types of models.
Whatever you decide to go with, make sure it fits your needs. Remember to keep things like load capacity, size, and reviews in mind.
With so many options available, you don't have to settle for something that almost fits. Simply determine what your needs are and find the forklift that matches them.
Is something missing from this guide? Contact us and let us know!
Article Resources:
https://ohsonline.com/Articles/2013/09/01/Death-by-Forklift-is-Really-the-PITs.aspx
https://www.explainthatstuff.com/remotecontrol.html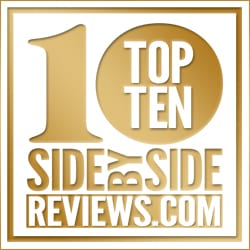 Is Your Business in our Top 10? Brag about it and post your Top 10 Badge on your website.
Find and compare the top ten Fork Lifts and read customer reviews from these and other real people. Help us rank the best Fork Lift Rentals and Used Fork Lifts for sale and write your own review. Simply share your experiences at the bottom of this page.
Request Side-by-Side Fork Lift Quotes to Compare and SAVE BIG.
Which company, product or service do you think is BEST? WORST? Write your review here.