Best

Street Legal Golf Carts

| Side by Side Reviews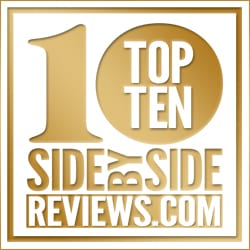 If you're in the market for a street legal golf cart, comparing features and price quotes is crucial to getting the best deal possible on a top-quality product.
At Side By Side Reviews, we have gathered details on the top 10 golf carts including user reviews and buying tips, and made it easy to find the best prices on the web.
Tips For A Top Street Golf Cart – Purchasing Guide and Review
Low-speed street legal golf carts are perfect for carrying your clubs and zipping around the golf course, speeding up the game and allowing disabled golfers to still enjoy the game. Even off the course, golf carts are versatile vehicles commonly used for gardening, security, farming, and other short-range transportation.
Gas Golf Cart Review
Compare Golf Cart Prices
No matter what you plan on using your golf car for the first thing to decide on is whether you want an electric or gas-powered car.
Electric vs. Gas
Both electric and gas golf cars have their pros and cons. Prices for both carts will vary depending on the make, model, and features.
Electric Golf Carts
Electric golf carts are powered by rechargeable batteries that will need replacing about every 5 years. Depending on the model and type of batteries used your cart can have anywhere from 3 to 5 horsepower. Batteries will need to be charged every few days depending on how often you use the cart. All electric golf carts need a charger. Other than the replacement battery, which can cost up to $550, electric carts have minimal maintenance costs. When running your cart will be silent but any accessories (radio, lights, fans) will reduce the battery life. Electric golf cars are the most popular and you will see these many of these on the golf course.
Gas Powered Golf Carts
Gas-powered golf carts use unleaded gasoline and have similar engines to a car. This means that they will need maintenance and repairs similar to a car and cost money to refuel. Gas carts will run longer on one tank of gas than an electric cart will on a fully charged battery. They have an average horsepower of 10 to 12, meaning increased accelerations and better uphill performance. Gas powered golf cars are slightly nosier than electric carts. If your primary intention for your new golf cart is off the course use gas-powered is the most popular choice. These carts will run longer and have greater power for transporting passengers and any luggage.
Features & Safety
How many passengers do you plan to carry on a regular basis? Street legal golf cars can carry anywhere from 1 to 8 people at once.
Do you need extra storage room?
Does your cart come with a fan? Heater, lights, radio, accessories for comfort, drink holders, leather seats, GPS?
Most importantly, check to see what safety features the golf cart offers. Some carts come with roll bars to protect riders if the golf cart is overturned. Other carts have seat belts, speed restrictors, and headlights for nighttime driving. All buyers should be aware of the risk of using golf carts, as injury and death can occur from golf cart-related accidents.
Keep in mind that every state has different laws concerning golf cart use and ownership. Some states have new laws requiring safety features on all carts and include limits on a cart's weight and top speed. Check with your local DMV to register if needed and make sure your cart abides by all rules and regulations.
Things to consider when talking with your local golf car dealer:
Is the low-speed golf cart/vehicle for commercial or recreational use?
What seating capacity do you need? (i.e. 2 passengers, 4, or 6)
Are you interested in a new or used cart/vehicle?
How will you use the cart/vehicle? (i.e. transporting people, towing, hauling cargo)
Will the golf cart/vehicle be driven on public roads?
What type of terrain will the golf car be driven on? (i.e. Asphalt, Grass, Rough Terrain)
What golf car engine type would you prefer? Gas. Electric.
How do you prefer to finance this golf cart purchase? Lease. Purchase. Rent to Own.
What is your estimated budget for golf car?
Buying New Street Legal Golf Cars vs Used Golf Carts
Like purchasing a car, buyers have the option to buy new or used golf carts. A new cart often comes with a warranty and ensures buyers that all parts are unused and in good working condition. Used carts have much cheaper purchase prices but always run the risk of containing faulty or worn parts.
NEW GOLF CARS:
CONSIDER THE COST: New low speed golf cars cost as much as twice the amount of new ones. Used golf cart prices begin as low $2,500 – $4,000 and new golf cars range from $5,900 – $14,800 (high end).
ADD-ONS & ACCESSORIES: Golfers can select from tons of cool features and options to fully customize a new golf cart. Consider what items are important to you in advance.
AGE: New cart buyers are safe as there are no hidden mechanical problems or accidents in the cart's history. Used golf carts may have underlying problems that are not disclosed by the seller.
GOLF CART WARRANTY: New golf carts often come with  2 years warranties.  Check with the manufacturer for warranty time frames.
USED GOLF CARTS:
PRICE: One clear advantage of buying a used cart is the savings.  Buyers can save up to 50% of their money by purchasing used carts vs new ones.  Used golf cars start as low as $1,800, and of course, the price goes up from there depending on the accessories.
USED GOLF CART ACCESSORIES: Golf carts have not changed over the last few years.  Expect a used golf cart will have similar quality parts as a new cart.
HISTORY: Examine the golf cart's previous maintenance history to determine it's the current condition and future longevity.  Was it stored inside or kept outdoors?  How old are the batteries?  Where was it maintained by a professional? Were there any accidents?
WARRANTY: Few used golf cart dealers supply extended warranties – be sure and ask the salesperson for details on their warranty terms.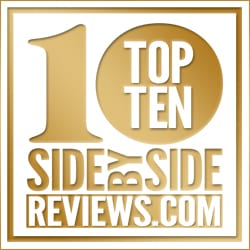 Is Your Business in our Top 10? Brag about it and post your Top 10 Badge on your website.
Find and compare the top ten golf carts and read customer reviews from these and other real people. Help us rank the best cars and custom carts and write your own review to help other buyers. Simply share your experiences at the bottom of this page.
Request Side-by-Side Golf Cart Quotes to Compare and SAVE BIG
Which company, product or service do you think is BEST? WORST? Write your review here.