Best

Postage Meters

| Side by Side Reviews


Top 5 Postage Meter Companies
There are only five companies authorized by the USPS to lease postage meter systems. These are listed as the first five on our list. However, there are other companies that act as resellers, through which you can secure the meter system you need. Postage meters are a great investment for small businesses. Here are Our Top 3 Picks:
Postage meters, inserters, printers
Address management
1.5+ million customers
Serves 90% of Fortune 500
OUR SCORE
9.9
Shipping & tracking
Multi-channel document mgmt.
96% customer satisfaction rate
Folder inserters
OUR SCORE
9.7
Over 90 years
Over 230,000 customers
Environmentally friendly
Since 1923
OUR SCORE
9.6
HERE'S THE FULL LIST OF THE BEST POSTAGE METER COMPANIES
Pitney Bowes
The Pitney Bowes name is synonymous with postage meters. Their machines, which start at under $37 per month, offer a combination of accuracy and speed.
With an integrated scale that ensures a correct weighing every time, a Pitney Bowes machine is also as high-tech as they come. With the swipe of a smart screen, users can access SendPro Online, the company's virtual shipping, and mailing solution. Here, they can compare shipping rates among USPS, UPS, and FedEx, saving three cents off every stamp.
Pitney Bowes postage meter machines are a great overall option for small businesses. Via partnership with Stamps.com, they deliver best in class customer service.
Pitney Bowes meters work great out-of-the-box and scale as your business grows. Furthermore, Pitney Bowes offers several shipping options for small business owners.
Many small business owners choose Pitney Bowes postage meters. They offer a wide variety of meters, shipping software, and hardware solutions. These solutions work with FedEx, UPS, and the United States Postal Service. Pitney Bowes is ideal for companies that work with multiple carriers and packages of varying heights, lengths, and widths.
Working with Pitney Bowes Postage Meters
The Pitney Bowes line is optimized to work with UPS, USPS and FedEx tracking numbers. Pitney Bowes postage meters also enable business owners to send notifications. Also, they can send shipping delivery updates to customers.
In addition, Pitney Bowes offers monitors and touchscreens. They're suitable for shipping operations that range from small to large in scale.
Their advanced add-ons enable businesses to process mail. As an example, the company's optimized software, postage meters and forwarding machines make shipping a breeze.
As a Pitney Bowes customer, you can save up to 40% on trackable priority mail packages. In addition, Pitney Bowes offers two systems for buying, calculating and printing postage. The systems include postage meters and PC postage.
For each system, there are several subscription pricing tiers. For instance, the SendPro Online Standard Package is available for $4.99 per month plus tax. The package includes the PC postage program, which allows access for one user at that rate.
The $4.99 Online Standard Package only allows you to print postage for the United States Postal Service. However, users of this particular package can receive exclusive discounts. It includes a 10-pound postage scale and labels that you can print from any desktop printer.
The $14.99 package, however, includes everything that comes with the $4.99 Online Standard Package. However, you can also use it with FedEx and UPS
The meters come with a 60-day trial period. Read More
Neopost USA
Neopost offers a variety of digital postage meter systems and is also an industry leader. From home offices to large corporations, their machines are scalable to fit any required size.
The company's proprietary NeoShip application makes it a breeze to weigh, prepare, and ship metered mail. You'll also have access to a host of web-based and meter-based software resources to track expenses, analyze usage history, and create reports.
Hasler-Neopost
In 2009, Neopost bought another name-leader in the postage meter world, Hasler, to create an alternative mailing system solution. Today, Hasler solutions are available for lease and maintenance support through Neopost. Read More.
Leases for entry-level systems will start at around $25 per month.
FP Mailing Solutions
Standing for Francotyp Postalia Inc., FP Mailing Solutions is on our top-three list for its long-standing history of providing some of the best postage meters in the industry. For more than 90 years, FP meters have been a mailing mainstay, installed in more than 230,000 mailrooms across the country.
A robust customer support program, emphasis on environmental responsibility, and commitment to innovative designs keep FP as relevant today as it was at the turn of the century. Learn More.
At FP, they work to create a culture that encourages cross-departmental collaboration. They strive for solidarity and stay on top of the latest product innovation in order to provide their customers with an unparalleled service experience. It is important for them to keep up this level of support as your business evolves over time because there will always be new challenges ahead.
For over 90 years, FP has been the answer to all of your mailroom needs. From handling packages and letters at their source in-house with state-of-the-art solutions or providing efficient document management for internal processes that require paper less than others on this list.
DataPac
One of the newest postage meter companies, DataPac is the first to be added to the USPS' list of authorized providers in more than 25 years.
Data-Pac's EZ-Mailer Postage System enables small business owners to take advantage of various USPS discounts. It can turn your mailroom into a high-powered profit center.
The EZ-Mailer Automatic mailing machine is a low- to mid-volume mailing system. It enables you to process letters and flat packages at speeds of up to 140 letters per minute.
It features a small footprint and a 10-inch color monitor. The EZ-Mailer Automatic mailing machine also comes with a 25- or 70-pound scale. It also includes unlimited accounting, job reporting, operational reporting, and presort reporting. The unit comes with several bonuses, such as a:
3,877 firm mailer book
Commercial rate option
Custom form printing
E-Certified form printing
Full international mail manual
The EZ-Mailer commercial rate plan allows you to qualify for the company's proprietary discount program.
The Benefits of Working with Data-Pac Postage Meters
The company offers commercial rate discounts of up to 11%. It will save you $0.95 per mail piece on priority mail and also comes with free electronic delivery confirmation.
The commercial rate plan will also save you $2.05 for each international mail item that you ship using the service. You can also save up to $1.20 for each piece of certified mail that you ship in the United States.
These kinds of savings might enable you to justify the cost of leasing an EZ-Mailer Automatic mailing machine. Furthermore, the ink needed to operate the EZ-Mailer Automatic mailing machine costs 75% less than competing brands. As a side note, it uses high-speed internet, whereas lesser competitors often use outdated dial-up technology.
The EZ-Mailer Automatic mailing machine features a small footprint, all-steel construction and an onboard PC. Also, the meter is designed and built in the United States.
For users, the EZ-Mailer mailing machine offers configurable screens. In addition, the system comes with postage accounting and full reporting capabilities.
This company stands out for its innovative controls, including a 15-inch touchscreen on every model. With low ink refill costs and a solid construction build, it's not hard to see why it's a new favorite. Read More.
Addrex
A leader in both mailing and paper handling, Addrex has been a standout since 1970. From full-color printing systems to digital postage meters, the company provides it all.
As a Pitney Bowes business partner, Addrex stocks the latest models of meter systems available, addressing both high and low-volume business needs. Learn More Here.
Document Technologies
Another FP partner, Document Technologies also partners with a range of leaders in the business communication industry, from Hewlett-Packard to Kyocera.
Located around Albuquerque and servicing the surrounding region, this is a go-to spot to find FP postage meters and mailing solutions ranging from the PostBase Mini to the PostBase Pro DS. Read More.
Document Technologies, Inc. has been servicing New England customers since 1994 and is committed to ensuring the highest standards of customer satisfaction with its team over 100 years' worth of experience in document technology services.
In order for them as a company not only to be successful but also provide their clients what they need at their doorstep or on-site they offer highly qualified sales personnel who can help your day-to-day so that when it comes time for something big like implementing new systems there won't any questions asked because all departments are prepared.
Document Technologies, Inc offers Xerox's full line of outstanding products and services, which include printers , multifunctional copiers to production inkjet software. They have competitive pricing for those companies starting out or watching their budgets . Their stated goal is to sell you what you need at the price that works best while keeping as a customer forever.
Secap, Inc.
For more than 35 years, Secap has provided a variety of mainstream management solutions for both personal and professional customers. Its products are available through a robust and expanding network of authorized independent and Secap-operated local dealers.
From printers to mailing software, those with high-volume mailing needs can find what they need here.
TyPac, Inc.
TyPac is another reseller localized in one specific geographical region. Located in upstate New York, this company has been providing office equipment and mailing solutions since 1972.
With this dealer, you'll find Secap postage meter products, along with a slew of other packaging equipment solutions. Read More.
TyPac, inc. has been servicing the Upstate New York area with their Bunn tying machine. In the 1980's we added Accufast and Mosca lines to meet changing needs of customers for fast turnaround time on orders. At Typac they pride themselves not only in selling equipment – but also their commitment to you: your satisfaction is guaranteed by an accredited business classification; as well as AIMED membership which includes 30 years' worth of no-questions-asked warranties.
Whitaker Brothers
Budget-conscious small business owners will appreciate Whitaker Brothers' commitment to keeping prices low and quality high. An FP authorized dealer, the company offers a wide range of the brand's line, along with other office products.
A team of dedicated sales representatives, support personnel, and service technicians are available to help with installation and troubleshooting needs. Read More.
Is a Postage Meter the Right Choice for Your Enterprise?
Convenience is important for small business owners. Unfortunately, is not always easy to make mailing and shipping items for business purposes convenient.
You may need to mail a direct mail piece to your ideal customers or ship purchased items to buyers. Either way, it's time-consuming to go to the post office every time that you need to complete a transaction through the mail.
Direct-mail and shipping solutions can help you to solve this dilemma. If you need to ship several items, for instance, you may want to consider purchasing a postage meter.
According to the United States Postal Service, a postage meter is a piece of equipment that you can lease from an authorized vendor. You can use it in your home or office.
Postage meters print postage for the items that you wish to ship or meter tape which you can affix to your letters or packages. You could use stickers or stamps with your brand image imprinted on them. However, it's easier to use a postage meter that prints these items on the things that you need to ship.
Before you can use a postage meter, you'll most likely need to secure a permit in the city where you do business. It's not hard to obtain a permit, but it's essential.
The following are five top postage meters for your small-to-medium-sized business.
TOP 3 Postage Meters For Small Business
1. PostBase Mini by FP
FP Mailing Solutions has manufactured the PostBase Mini since 2015. The Mini is the smallest of the company's PostBase series.
It can handle up to 70 letters per minute, which is ideal for small businesses or businesses with light outgoing mail. The PostBase Mini is one of the first postage meters to meet the United States Postal Service's IMI (Intelligent Mail Indicia) standards. It's a great choice for business owners who are concerned about their postage meter's usefulness in the future.
As his name implies, the PostBase Mini takes very little space. With a small footprint and silent motor, it's easy to forget that the machine is operating. The small size and low profile of the machine make it a welcome addition to any office. Also, it comes with a 5-pound scale, which is a larger capacity than many popular postage meters.
You can brand and customize your PostBase Mini with a custom color plate and augment the external FP scale with a capacity of up to 70-pounds. It also comes with an intuitive touchscreen interface and features a 17 letter per minute imprint rate.
The PostBase Mini is Built to Last
The PostBase Mini is one tough little machine. It makes all the benefits of metered postage available to small offices.
It's also great for home-based businesses that send a low volume of mail. The postage meter is easy to use and helps small business owners save money. Furthermore, the system works well for both letters and packages.
You can also make use of the included RemoteOne software and upgraded ReportOne application. FP's PostBase Mini accounting and reporting features will help you complete shipping jobs on time and stay within budget.
The PostBase Mini is an effective postage meter that squeezes a lot of features into a small package. Experienced PostBase users, however, may miss the features that come with FP's other postage meter products. Still, the PostBase Mini is a useful tool for small business owners.
2. IS-280 Postage Meters by Neopost
The Neopost IS-280 Postage Meter is a great home office workhorse. For small businesses, Neopost offers the advanced iMeter line. It features innovative apps and standard features.
The Neopost IS-280 Postage Meter can help you to optimize your outbound mailings. It combines efficiency and cost-effectiveness. Neopost's IS-280 postage meter has a processing speed of up to 18 letters per minute. It also offers imprint customization as well as the ability to make use of eight standards and two open advertising slogans. The IS-280 postage meter makes it simple to mail letters and packages in two easy steps.
Neopost's postage solutions offer enhanced performance where it matters the most – your bottom line. By taking advantage of the companies NeoShip service you can save up to 40% off of your shipping rates via free package tracking and other features.
Options Abound with the Neopost IS-280 Postage Meter
There are many different postage meter options. So much so that it can prove difficult to compare features, ease of use, and available discounts. However, you can count on Neopost for expert advice and support when needed.
Some small businesses waste countless hours on shipping. It's a lot of work figuring out complicated applications and special labels on their own. With Neopost as a partner, however, you'll always have someone to answer questions that will help you meet the needs of your growing business.
To date, over 100,000 small business owners trust Neopost. The company offers US-based customer service to help you manage your account. So far, Neopost's American division has maintained an A+ rating with the Better Business Bureau.
If you ever have a question about invoicing, you can count on a competent Neopost customer service representative for answers. Neopost outperforms competitors in customer service, price transparency, and quality. The company offers clear price comparisons that you can review in convenient PDF format.
You may have grown tired of going to the post office, waiting in line, and interrupting your company's workflow. If so, the Neopost IS-280 postage meter may prove itself as the solution that you need. Best of all, Neopost stands by their pricing and will not change rates without negotiating with their customers first.
3. iX-3 Postage Meter by Neopost
The iX-3 Postage Meter is another great postage meter entry manufactured by Neopost. The iX-3 series is designed for small offices and is a practical choice for effortless mailing and shipping.
Paired with Neopost's NeoShip Advanced and NeoStats, the iX-3 Postage Meter is a full shipping suite. It's a one-stop solution for processing, reconciling mailing parcel expenses, reporting and tracking. Combined with NeoShip Advanced the iX-3 Postage Meter is a competent multicarrier solution.
The iX-3 Postage Meter system offers considerable flexibility via its control panel. It's available with an optional 10-, 30- or 70-pound postage scale.
The iX-3 Postage Meter system is capable of processing mail batches at a rate of 45 letters per minute. All you need to do is insert your mail pieces and print the postage that you need.
Commercial Grade Performance in a Cost-Effective Package
The commercial-grade Neopost system makes it easy to refill postage funds. You can also download the latest USPS rates and system upgrades. All you need to do is connect the meter to a dedicated internet connection.
Neopost's iX-3 Postage Meter system also enables you to personalize your mail pieces with a branded image, logo or message using NeoSlogan. NeoSlogan offers selections of over 100 stock images.  Additionally, you can use the software to create your own images.
You can also use NeoShip to ship letters and packages from your desktop. Like the PostBase Mini, Neopost's iX-3 Postage Meter is USPS IMI (Intelligent Mail Indicia) compliant.
With the iX-3 Postage Meter system, you'll never need to guess the weight of your mail pieces. The system comes with a 5-pound weighing platform, which you can upgrade to a 10- 30- or 70-pound platform.
By using the iX-3 Postage Meter to determine the correct rate of your parcels, you'll never overpay for mailing or shipping again. A top-notch postage meter system can help you to save time and money. The meter system enables you to connect with up-to-date postage rates, and you can use it to make the shipping process more convenient.
Features to Look For in a USPS Postage Meter
It's important to understand that in the United States, you cannot buy a postage meter outright, thus you won't find any postage meters for sale. Rather, you can rent or lease them for a set period of time.
That said, though these rental rates can be significant at the onset, they're well worth it for the myriad benefits they provide business leaders. Some of the reasons to look into a postage meter for your small business include:
Lower postage rates, provided through the United States Postal Service (USPS)
Shorter time to process mail
More accurate posting costs due to exact weight measurements
The opportunity to create custom-branded mailing labels
As you begin your research into the type of postage meter that is the best fit for your business, you should answer a few questions first. This will help you narrow down your options. Here are a few things to look for when you're starting your search.
What is My Current Mail Load?
There are three size classes of postage meters, which we will delve into soon. Consider the volume of metered mail you're currently outputting. Do you expect to continue with this amount into the foreseeable future? Or, are you anticipating major growth in the coming months?
You should also take into account the type of mail you process on average. Are you sending mostly flat envelopes, or are you shipping out large parcels? Understanding the answers to these questions can help steer you toward the machine that is capable of meeting your current and future needs.
Do I Require Batch Processing?
If your company processes a significant amount of mail each day, it will benefit from a solution that offers batch processing. All five of the USPS-approved meter companies have machines capable of doing just that.
To maximize these features, you'll need to be able to sort your mail by box size and weight. This makes batch processing an ideal feature if you're used to sending many packages that are the same general size, with most going to the same geographical area.
Do I Need Automatic Feeding Capabilities?
Is your mail load small enough that you can feed each piece of mail at once? Or, would you benefit from a machine that allows you to insert a large batch all at once, with automatic feeding capabilities?
These features can range from sealing envelopes to applying labels. If you need the work of more than one person, a large-scale machine with built-in automation can save valuable time and money.
Types of Postage Meters and Uses
In general, there are three main types of postage meters. Let's take a look at each one in detail.
Small Business Postage Meters
These are ideal if your weekly mail volume is low. Machines that fall under this category will typically process 15 to 40 letters per minute, indicated as LPM.
Their integrated scales will weigh up to around 10 pounds, most of these machines are still equipped to create custom labels for branded shipping purposes. When you're looking for the best postage meter for small business use, these are often sufficient.
Medium – Commercial Postage Meters
Medium-sized machines work best for small-to-medium businesses that have a high mail volume on a weekly basis. They will include some automated aspects and are better capable of handing differently-sized mail than smaller machines.
These can process around 200 LPM, with scales equipped to hold 15 pounds. Companies that ship heavier items can add an external scale to hold up to 100 pounds.
Large – Corporate Scale Postage Meters
As expected, these are the largest, quickest, and most expansive metering machines available. They are typically designated for corporation use. The built-in scales will weigh up to 15 pounds, while external scales can increase that weight to 150 pounds.
With a processing speed of up to 350 LPM, these are do-it-all systems capable of handling even the biggest batch of mail.
How To Choose a Top Postage Meter Company
Of course, the postage meter company you go with will be the one that offers the system that best fits your needs.
Still, there are few distinguishing characteristics to keep in mind when selecting from among the top providers. Here are some questions to ask before making your decision.
Is Maintenance Support Available?
Most reputable postage meter providers will have designated support personnel available to answer your questions in person, online, or over the phone.
Especially if your small business processes a heavy volume of mail on a daily basis, you can't afford to have large periods of downtime. Rather, if an issue occurs with your machine and you need maintenance support, it must be provided in a timely manner. Choosing a provider that is equipped to provide this real-time assistance is a critical consideration.
Are There Eco-Friendly Components?
A mailroom can be one of the most power-hungry aspects of a small business. By making the decision to switch to a postage meter, you're already taking steps to reduce the carbon footprint of your company by avoiding the drive time and extensive paper trail associated with traditional mailing.
If going green is important to your business, look for providers that also share this initiative and factor it into their design. For instance, many systems come equipped with a "sleep mode" that will turn the machine off when it isn't in use.
How Much Can I Save with a Postage Meter?
Unless you require a large-scale postage meter solution, most can be leased for around $20 to $60 per month.
Thus, if you're used to spending around $50 per month on shipping costs alone, that's around $30 per month of savings if you go with a smaller model. Even if yours is on the higher side, around $60, you still have to factor in the other costs you're avoiding, which include:
Time and gas spent driving to and from the post office
Non-productive work hours spent waiting in line to ship items
Retail prices of stamps
Money wasted on inaccurate or approximated postage costs
In addition, keep in mind that, with a postage meter solution such as one from Pitney Bowes, you'll save:
Up to five cents on First Class Letters
Up to 40% on Priority Mail
Up to 24% on presorting with bulk mail software (vs USPS sorting)
How Fast Will a Postage Meter Pay For Itself?
You're likely wondering how quickly you'll begin to see a return from your postage meter investment.
As a rule of thumb, most providers estimate that machines such as these will begin to pay for themselves within six months. In addition to cost savings, you'll also enjoy a productivity boost, as some industry experts note that you can save one day of administrative work per month by switching to a meter.
Of course, when weighing postage meter costs, you should also take into consideration any other supplies you'll need including ink refills, sorters, stackers, sealers, property taxes, meter insurance, and actual postage.
You'll also need to take into account whether or not you'll require a fixed-rate rental fee or a usage-based one.
Get with Postage Meter Comparisons for Your Business
If you're in the market for a postage meter system, SideBySideReviews.com is your one-stop source for postage meter reviews. The site can help you to make a postage meter comparison based on your business's needs.
Every business is different. Get the expert help that you need today so that you can find a postage meter solution that makes sense for your business.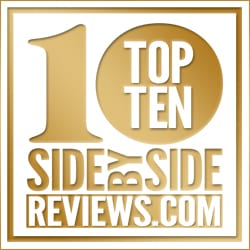 Is Your Business in our Top 10? Brag about it and post your Top 10 Badge on your website.
Find and compare the top ten Postage Meters and read customer reviews from these and other real people. Help us rank the best Digital Postage Machines and write your own review. Simply share your experiences at the bottom of this page.
Request Side-by-Side Postage Meter Quotes to Compare and SAVE BIG.

Which postage meter do you think is BEST? WORST? Write your review here.