Best
Letter Folding Machine

| Side by Side Reviews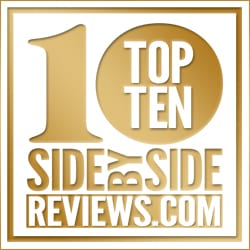 When it comes to finding quality Letter Folding Machines, comparing quotes is the key to getting a top product for the lowest price.
Below you will find information and reviews of the best paper folding machines including user reviews, buying tips, and an easy-to-use system for getting the best price from companies in your area.
Letter folding machines can be very useful, and if you're thinking about purchasing a letter folding machine, here's how to find the best-rated ones.
It's an urban legend that just won't die. Marketers will tell you that direct mail is dead. However, this isn't the case as it has a 4.4% response rate. This is significantly more than the .12% response rate of email.
If you plan on using direct mail or creating brochures, cards, presentations, or maps, you need a letter folding machine. Here's your guide to getting the best paper folding machine.
Top 10 Letter Folding Machines – Buying Guide & Reviews
These are the top folding machines of the year based on their quality and options. Each machine offers amazing quality and value for its price point.
Duplo DF-915 Paper Folding Machine
The Duplo is a quality medium-volume folder that can handle glossy paper. With a rate of 280 sheets per minute and 16,800 per hour, this machine is sure to handle your office needs.
There are six common folds and two programmable settings for custom folds for you to use.
Duplo Foldmaster TOUCHLINE CF375
For the big jobs. Air feed, auto adjustments, 6,000 sheets per hour. Paper stock 26 lb. bond to 150b. cover (100-400 gsm)
Fold Types: No Fold, Single, Letter, Z Fold, Double Parallel, Gate, Closed Gate.
.
MBM 207M Paper Folder
The MBM 207M is a high-volume folder with an easy to see LED 4 digit counter. You also load and unload paper on the same side, making it easy to place within your office space.
It doesn't handle glossy paper well since it has a 3 roller fiction feed process. This doesn't allow for a wide range of paper sizes and weights.
There is also an auxiliary guide for cross folding. There are 6 pre-programmed folds to choose from for quick operation.
Intelli-Fold DE-102AF Desktop Paper Folder
The metal chassis makes the quality of this machine evident. The folds are also marked on the plates so setup and adjustments are easy.
While the machine will adjust for paper thickness, it is not well equipped for glossy paper.  The drop-in feeder does get rid of the need to pre-fan the paper though.
Hasler PF-90 Fully Automatic Document Folder
For a top-quality high volume folder, consider the Haslar PF-90. It works at a rate of 20,100 documents folded per hour.
Use the backlit screen to program and select one of the six different fold options. Then load the paper, press start, and walk away. It's that easy!
Duplo DF-777 Automatic Paper Folder
If you intend to use glossy paper this is a great medium volume option. It has six pre-programmed popular folds and an electronic fold plate which allows you to make adjustments for a custom fold.
The unique test button feature lets you test your fold out on two sheets of paper before you commit to the entire batch.
Martin Yale 2051 SmartFold Programmable Paper Folder
This is another high-volume folder. You can run 18lb to 90lb paper through it, giving yourself a wide range of paper options. You also have a wide range of fold options with seven present common folds and up to ten custom fold memory options.
The speed of the folding ranges from 3,000 to 15,000.
FD 300 Office Desktop Folder
If you only need to fold a few hundred sheets, this light capacity machine is perfect for you. The input tray can hold up to 200 sheets at a time, though the machine can fold up to 7,400 sheets in an hour.
With the folder's out of the box operation, it is perfect for those who are first-time folding machines. It also requires minimal adjustment for those that want simplicity and efficiency.
MBM 93M Paper Folding Machine
The 93M's compact size makes it perfect for medium-volume printing. The simple push-button operation makes it perfect for all users.
The folding plate has color coding, making set-up and adjustments a breeze. The exit tray collects the folded paper in a neat and orderly stack. The design of this folding machine centers on ease of use and convenience.
FP-1001
This is another quality light volume machine. It only takes 125 sheets at a time making it perfect for a small office. You can expect it to fold about 140 sheets per minute.
Plus with its small footprint, you can easily fit it into your office environment. It will also not disrupt your workflow either with its quiet operation.
Types of Letter Folding Machines
Folding machines come in three different types based on the way the paper feeds into the machine. The first type is a manual feeder that requires you to load one to five sheets at a time.
The other two types are automatic, allowing you to load a large amount of paper at a time. Friction feed machines will use a silicone or rubber wheel to pull the paper, while air feed uses suction to pull the paper.
What to Look for When Evaluating Paper Folding Machines
There are six basic questions you should ask when shopping for a paper folding machine. This will help you narrow down your options to find the right folding machine for your needs.
What type of paper will you use? 
If you plan to use cardstock or standard paper then you can look at machines that use a friction feeder. However, if you plan to use slick or glossy paper then you'll need to look at an air feeder. Using a friction feeder on glossy paper will result in a lot of paper jams.
How thick is your paper? 
Look at the machine's minimum and max paper thickness capabilities. If you are using a standard 20# copy paper you should be fine with any machine. When your paper gets thinner than 12# or thick card stock then you need to keep an eye on your machine.
What fold do you need?
You're buying a folding machine, so you should check to make sure the machine does the fold you need. Most machines will list the different folds that it is capable of.
What folding volume do you have?
Machines can vary in volume from a few dozen folded sheets to a few thousand a day. Don't confuse the motor speed with the daily duty cycle. These numbers do not always correlate.
Do you need your folded paper kept in order?
If you are folding specific documents like bills, invoices, or customer statements, you'll need the paper to stay in a particular order. Look for a machine that has a powered exit conveyor.
The conveyor slows down the speed of the paper. You may want to consider a conveyor even if you don't need the paper in a particular order as it will keep things neat and tidy.
Where do you plan to fold your paper?
Folding machines vary greatly when it comes to size. If you plan to keep it on your desk, you'll need to keep this in mind. You also need to think about the weight of the machine as larger ones can become quite heavy.
How Does a Letter Folding Machine Work?
The machine is going to start by pulling a sheet of paper into the body of the machine by using either the friction wheels or air suction.
The paper is then moved onto the first folding plate. This is where the first fold happens. It will then get moved around the friction plates based on the type of fold you have programmed the machine to do.
Once the paper has made its way through the required folding plates, it ejects from the machine and into the exit tray.
What Are The Types of Fold Letter Folding Machines Can Do?
There are 11 types of folds that you will see letter machines do. The one you select will depend on what your intended use is for the paper.
Tri-Fold
This type of fold will also get referred to as a "C" fold. This is the most common type of fold.
Examples of tri-folding are brochures, invitations, or mailers. There are a center panel and two flaps that fold over each other on top of the centerpiece.
Half Fold
A half-fold is what you'd expect from the name; a piece of paper folded in half. Greeting cards are a common example of a half fold.
Z Fold 
The Z fold is like the tri-fold except that instead of the two outside flaps folding over the middle on top of each other, one goes on the front and one goes on the back.
Sometimes this type of fold is referred to as an accordion fold. Most utility bills come folded in this format.
Double Parallel Fold
Customer reports often have a double parallel fold. Typically, a legal sheet of paper arrives folded in half and then folded in half again.
Gate Fold
Magazine covers and books will have a gatefold. This type of fold is like the tri-fold but the outside flaps have their edges meet in the middle instead of overlapping.
Closed Gate Fold 
This is a rare type of fold that you might only see for brochures. It is exactly the same as a gatefold, but the center panel has a fold down the middle.
Cross Fold
Also known as a French fold, greeting cards and wedding invitations are the only things that use this type of fold. It isn't common because it is a more complicated process that requires the machine to run the paper through twice for two separate folds.
First, the paper runs through and gets folded in half. Then it gets folded in half again.
Church Fold 
You might hear this one referred to as a right-angle fold. Start with a tri-fold design, but one flap is smaller in width than the center panel.
Engineering Fold 
This is one of the most obscure folds available. It is a modified Z fold where only half the paper is accordion folded. This works well if you need to organize report or brochure materials.
Baronial Fold 
This is the most complicated type of fold and many folders won't be able to achieve it. This is okay though, as its only real application is for cartography or map folding.
It involves a series of individual folds where the paper gets folded in half and then in thirds.
Cross Letter Fold 
Not quite as complicated as the last fold, this one sees the paper folded in half and then folded into a tri-fold.
How Many Envelopes per Hour Can a Letter Folding Machine Stuff?
Depending on the machine you buy, the number of envelopes you can stuff in an hour will vary. A decent mid-volume model will stuff 2,400 envelopes in an hour. A high volume machine can process upwards of 12,000 in an hour.
How Much Do Automatic Letter Folding Machines Cost?
For a small manual feed machine, you can expect to pay around $200 to $300. For an automated friction-free machine you can expect to pay anywhere from $800 to $3,000.
Air feeders are going to be a lot more expensive and can run you from $5,000 to $10,000. If you need a high-volume air feeder the price can climb further to $10,000 to $15,000.
If you are planning on mailing your folded paper then you should opt for a folder that also has an envelope inserter. Then it will become a part of your mailing equipment. These dual machines start at around $4,000.
Top Letter Folding Machines Wrap up
When looking at a letter folding machine, think about the type of paper, the type of fold, and the volume you'll need. This will let you narrow down your options to a machine that will meet your needs.
Remember that the more complicated the fold and the higher the volume the more expensive you can expect the machine to be.
For the most automation, look for a machine that will also stuff the folded paper into an envelope. this will reduce your labor costs even more.
We can also help you with upgrading your company's copier with comparisons of the top copiers.
Letter Folding Machines Review