Best
Steel Buildings

  by Side By Side Reviews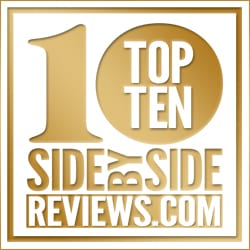 When it comes to finding Steel Buildings comparing quotes is the key to getting a top product for the lowest price.
We've gathered information on the top-rated steel building companies, user reviews, and buying tips, and made it easy to get the best price from companies in your area.
Residential Steel Buildings
Commercial
Equestrian Buildings
Sheds, Barns, Wineries, etc
OUR SCORE
9.7
Inc 500 Company
Fully Customizable
Buy Direct
Virtual Buildings – Online Tours
OUR SCORE
9.7
DIY Kits
More Versatile
Easier to Build
Lifetime Structural Warranty
OUR SCORE
9.6
Best Steel Buildings: A Review of the Top 10 Metal Buildings in 2020
Before investing in a steel building, you want to compare all the top brands. Here are some of the best metal buildings this year:
The earliest steel discovered is from 4,000 years ago. You may not need your steel building to last nearly that long, but we're sure you'd like it to last a lifetime.
By choosing one of the best metal buildings you can have a low-maintenance long-lasting building.
These days steel buildings can come prefabricated with options for customization to suit your specific need.
Here's a complete guide on steel types, building types, and how to find the best building manufacturer.
Top 10 Metal Building Companies
There are many different manufacturers of steel buildings, but we've selected the top 10 to help you get started.
Morton Buildings
If you want a building that you know will last, why not go with a company that has been at it for 110 years? Everything about the company is built to last.
Morton is an employee-owned company, so you know the people working on your building take pride in what they do. Everyone is invested in ensuring that you have a quality experience and product as a customer.
The legacy of Morton Buildings, Inc. is a long history of innovation and creativity with roots that go back all the way to 1903 when Interlocking Fence Company was formed by John Getz who served as its president until his sudden death in 1925. After he passed away it was succeeded by Joe A Getz , who would lead them through 1963 before stepping down from office at age 66.
In 2017, after more than a century of family ownership and with over 100 years under their belt the Morton Buildings were transitioned into an ESOP. An employee stock plan ensures stability for future generations as well as ensuring longevity in a business that is already so old!
Armstrong Steel
Armstrong strives to create a seamless building experience for its customers. They have been successful in their endeavors and earned recognition from Forbes as one of the fastest-growing companies in construction by Inc 500.
By choosing Armstrong you will join thousands of happy customers.
Armstrong Steel is a company that has been successful because they have always paid attention to the little things. They are dedicated and enthusiastic in their work, which you can tell from how quickly Armstrong grew throughout history- by now helping over one million people achieve what they wanted through building homes or commercial projects with unparalleled expertise.
Metal Building Outlet Corp
For Metal Building Corp, the focus is on customer service. This is because they work with many different manufacturers to help you find the best price to fit your budget.
Metal Building Outlet is a family-owned and operated business that was started in 1983. Metal buildings have always been their passion, providing high-quality products at affordable prices to every customer we work for. Their mission at MBO – besides making sure you get an awesome building out of your project too–isn't just about them; It's also dedicated service on all projects so long-lasting relationships can result from them too which makes this place a trusted reliable name among industry peers.
Future Buildings
For 30 years Future Buildings have continually grown by maintaining high levels of quality in their products. They focus on building arch panel buildings that can be simple yet strong and durable.
MBMI Metal Buildings
MBMI is second to none when it comes to the engineering and detailing of its steel buildings. They use state-of-the-art technology to create their buildings.
If you need a custom building but aren't looking to spend a fortune, you need to talk to MBMI. You can also take pride in knowing that your building will be constructed of the finest materials.
The metal building experts at MBMI are committed to providing you with the best service possible. They take pride in collaborating on every project, no matter how big or small it may be. They use state-of-the-art technology and first-class engineering so that they can serve all of your needs as efficiently and economically any more than any standard box buildings out there today.
MBMI has been a supplier of pre-engineered metal buildings and accessories for over 50 years. They have careful attention to detail with their products, making them erected problem-free as well.
Steel Master
Since 1982 Steel Master has had a passion for helping people achieve their steel building dreams. The company has helped over 40,000 customers in over 50 countries.
Industry experts have taken notice of the company receiving multiple awards. One of the most notable is one of the fastest-growing companies in America by Inc 5000.
Freedom Steel
Freedom is one of the leading suppliers of all American made steel buildings. The company follows the founder's mantra of committing to customer service as the highest priority. They pride themselves on having an "old school" approach to business.
Many people don't realize what a great asset an aluminum warehouse can be. These warehouses are especially useful if you work in production and your company has more than one of them. They're user-friendly, allowing easy transportation from one destination to another without worrying about breaking anything or having too much difficulty fitting everything inside just yet again since there won't really need space for storing things outside these buildings after all but rather right next door at each location making circulation easier on everyone involved no matter where they happen to be.
Mueller, Inc
Starting 85 years ago, Mueller provides steel buildings and metal roofs. They make all of their own products to ensure the highest quality.
The company also dedicates itself to its 750 employees. They go the extra mile for their employees so that their employees will go the extra mile for the customer.
When you're looking for a quality product, look no further than Mueller Inc. With their leading steel building and roofing system in Texas (and the Southwest) it's easy to see how they've grown into one of America's most trusted manufacturers.
When it comes to manufacturing, Mueller knows that the old-fashioned way is best. With in-house engineering and strict quality control, they are able to deliver unbeatable value while maintaining a high standard of craftsmanship for their products which can be seen on every stage of production at home or abroad.
Rhino Steel Building Systems
For 20 years Rhino has manufactured quality steel buildings. The company strives to treat each customer with honesty and integrity.
The steel buildings produced by Rhino have many applications from auto shops to aircraft hangers. They have residential uses as storage and garages. They also have agricultural uses such as barns.
The company also boasts an A+ BBB rating.
Safeway Steel Buildings
Safeway is an industry leader with backing from the Better Business Bureau. If you are looking for both construction and installation Safeway can assist you with both.
There is an entire in-house staff to assist you with your project at every step of the way. As part of the team, you'll have an expert project manager. Each designer has training and years of experience to help you get what you need.
What to Look for When Buying a Steel Building?
While steel buildings are a great alternative to brick and wood, you need to pick the right building for your needs. Consider these characteristics to ensure you find the right building for your needs.
Size 
The most basic characteristic you need to consider is the size of the building you need. You need to think about the footprint of the building.
Then there is the overall storage capacity of the building. Finally, think about how tall of a building you want.
Speed of Build 
Steel buildings can be built faster than brick and wood buildings. However, some metal buildings can go up faster than others.
If you need your building to go up as fast as possible then consider buying a kit. Depending on the features and accessories you select, you can have a building up in a few weeks.
Durability 
Look at the quality of steel that makes up the building you want. Steel that is thicker will be stronger and make your building more durable.
However, thicker steel means that the cost of the building will rise. Consider your intended use of the building to determine if the extra cost of thicker steel is necessary.
Keep in mind that steel buildings will last for a long time with minimal maintenance.
Insulation 
There are different types of insulation that you will have to consider. You will find that some insulation works better in the walls, while others work better in the ceiling.
The most popular form of insulation is fiberglass. However, you will also see the spray in, blanket or batt, and loose-fill.
What Are You Putting in It?
Think about what plan to use your building for. This will help you determine which type of metal building is best.
Price 
You will need to consider your budget when determining which steel building is right for you. If you want a small shed that is about 6 feet by 9 feet it will run you about $1,500. A large facility can cost upwards of tens of thousands of dollars.
Kits
A kit is prefabricated pieces that come ready to assemble. The advantage of choosing a kit is that it can go up much faster. You may also find that the kit is cheaper than ordering a custom building.
Ask your metal building manufacturer about options to customize your kit. Sometimes they will have options to substitute components.
Types of Steel Buildings and Uses?
The type of building you choose will depend on what you want to use the building for. Each type of steel building has features that make it ideal for its intended use.
Garage or Workshop 
This is the most popular use for steel buildings. They provide great protection and a large amount of space for cars and motorcycles.
Industrial Buildings 
A pre-engineered steel building is an affordable way for small businesses to expand their facilities. They are usually half the cost of traditional office space and can be built in half the time.
The best part is that you can have one large open space without the need for support poles or columns. This gives you the freedom to create useful spaces within the building.
Agricultural Buildings 
Steel buildings can be used on farms to store hay, feed, equipment, or even animals. Cows, horses, and goats can all happily live in a steel barn.
Horses and cows tend to kick or chew on the structure of the barn. This means you don't want a lot of poles or columns that can get damaged and will require replacing.
Residential Buildings 
You may not immediately think about steel as the building material for your home. However, it has a reduced cost of construction and maintenance.
Don't assume that your home will end up looking like the industrial out of the box designs that other buildings have. This is when customization of features and design comes in.
Aviation Buildings 
Airplane hangars are huge and require a large amount of open space on the inside. You can't have columns that you need to maneuver the plane around.
Steel works so well as a building material for airplane hangars that the US Department of Defense requires all airplane hangars to be made of steel.
Now all that's left is to decide on what type of hangar doors you want.
How to Choose a Steel Buildings Company?
If you find that the buildings you want all rank about the same, then you need to compare the companies that they come from. Here are some qualities to look at to help you decide.
Customer Support 
You never know when you might need to ask a question or get some advice. This is when you'll appreciate a company that can offer a robust customer service department.
Awards 
Quality companies tend to be industry leaders. This translates to awards for both quality products and service.
Reviews 
This one is an easy one, are other customers happy with their experience with the company? You could speak to people you know and get a recommendation from them.
There are also online reviews from customers. Look for trends, a bad review here and there isn't a big deal. But a long list of bad reviews isn't a good sign.
Geographic Service 
You can save on costs by going with a metal building manufacturer that is local. Travel time is also reduced as the materials don't have as far to go. There is also the ability to get more hands-on service and support.
Maintenance Service 
Even though steel buildings don't require a ton of maintenance, you still need to ensure you maintain your building. You can take the DIY route and ask about training. Ask the company about any warranties or guarantees they provide for the materials.
Types of Steel Used by Manufacturers?
There are four main types of steel that are categorized by their chemical compositions. There is carbon, alloy, stainless, and tool steel.
Carbon Steel 
About 90% of steel production is carbon steel. It contains trace amounts of alloy elements. There are three types of carbon steel low, medium, and high.
Low carbon steel contains less than .3% carbon. Medium will have .3 to .6% carbon. While high will have more than .6% carbon.
Alloy Steel 
Alloy steel is most often used in engines, generators, auto parts and equipment, and pipelines. this type of steel contains alloys to manipulate the qualities of the steel to make it better suited for its intended use.
The alloys used can be elements such as aluminum, copper, nickel, chromium, or titanium. The qualities enhanced are things like strength, weldability, hardness, corrosion resistance, or ductibility.
Stainless Steel 
Stainless steel has a high corrosion resistance with 10 to 20% chromium. This makes it about 200 times more resistant to corrosion than other steel.
There are three types of stainless steel. Austenitic steel is the main steel used in kitchen tools and equipment such as a commercial ice machine. Ferritic steel is the second type of steel. It is magnetic, but it requires cold work to strengthen.
The third kind is martensitic steel. It is most often found in knives and most cutting tools. Another use would be dental and surgical equipment.
Tool Steel 
This type of steel is known for its durability and strength. This makes it perfect for any tool intended for cutting and drilling. The steel will contain cobalt, vanadium, tungsten, or molybdenum.
The Best Metal Buildings in Review
When shopping for and comparing the best metal buildings you need to first consider your intended use and budget. This will help you narrow down which building is right for your needs.
Compare the different types of buildings and make sure that the one you pick is made of the right steel. This will ensure that your building is useful and will last for years to come.
Start comparing metal building companies today for your next steel building.
Please take a few minutes to read the buying tips and reviews posted below to learn about other customer experiences (Good and Bad). If you need a steel building or pricing please consider taking advantage of our free service and get multiple quotes from suppliers that will fight to win your business.
Important Notice: Ratings, comments, and reviews on this website are for informational purposes only. We do not endorse any of the companies or products listed here.
Buying Guide For Steel Buildings
The benefits of steel buildings are quite obvious and not only are they strong structures but also save a lot of time and money in construction. Steel components are easy to assemble and reliable especially against weather distractions making them a practical building choice.
Types of Steel Buildings and Uses
Now if you are looking to erect a steel building, there is a lot you need to consider and these are mainly the function of the buildings, size, and design. This is because there are different types of steel buildings. The first type is Quonset huts and these are the cheapest type. They will however cost you much when it comes to insulating them and are not the most versatile with design. For easier insulation, you may want to consider a combination of steel and wood. Steel arch buildings are another cost-effective type of steel buildings and they are quite common in agriculture. The buildings have more space mainly due to the arch. Straight walled buildings are more versatile since they don't have an arch and these are easier to merge with an existing structure. This type is common in commercial and factory settings.
Steel buildings can be used to make:
Mills
Manufacturing facilities
Automotive repair shops
Truck terminals
Animal shelters
Barns
Government offices
Condos and apartments
Retail stores
Warehouse storage
Steel Building Buyer Advice
When buying steel buildings, you must ensure that the design meets legal restrictions. These differ from state and you need to let your local building authority know about your plans. Remember that the steel building is an investment and you, therefore, cannot skimp on the costs of the material or design. To get the best deal, you may want to consider buying from the manufacturer. However this would only make sense if you have a large project, otherwise, a good supplier would be more sensible. Be careful with your contracts and especially look out for clauses where the manufacturer wants to substitute materials. This is usually a tactic to save money and provide cheaper materials. The contract needs to indicate brand names as well as a model number and not simply indicate a garage door or office.
Steel Buildings: Common Buying Mistakes
There are a lot of mistakes people make when buying steel buildings. Many of these are due to poor information, ignorance, and unscrupulous dealers. The most common are:
Purchasing the wrong type of steel building
Purchasing the cheapest building
Failure to calculate costs accordingly
Failure to get proper building paperwork
Not verifying seller references
Steel buildings are basically converted sea boxes or ocean containers. These buildings are modern and you really don't need to have a huge building project. You could build your personal workshop in your backyard or if you are a mechanic a garage.
Which company, product or service do you think is BEST? WORST? Write your review here.
Best Steel Building Companies