Best
Laser Printers

| Side by Side Reviews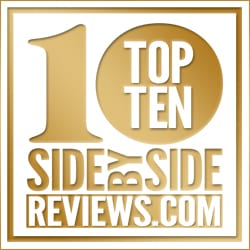 When it comes to finding a quality laser printer, comparing quotes is crucial to getting the best product for the lowest price.
Here at Side by Side Reviews, we have compiled information on the top 10 laser printers including user reviews and buying tips, and made it easy to find the best price from companies in your area.
Color Laser Printer Review
Compare Laser Printer Prices
Laser Printer vs Inkjet

Laser Printer Buying Guide & Reviews
As most of us have known and seen on a regular basis, a key benefit of improvements in technology is that over time, costs tend to go down. What may first emerge on the market as a new and pricey product typically, over time, comes down in price to the point where its presence is more ubiquitous and the associated price tag makes it more easily obtainable.
Such is the case for laser printers. For the quality and speed of printing, laser printers are unmatched for everything from home-based to large businesses. Where at first, from a price standpoint, inkjet and dot matrix printers were far more sought after, the laser printers have taken their fair share of the market. Often combined by manufacturers into multi-function machines that combine the ability to, in addition to printing, copying, scanning and faxing.
When choosing a multi-function laser printer, consider the following:
What requirements does your business or department face that will need to be met by the newly purchased multi-function laser printer? Consider aspects of your business including the number of copies run daily, project and color needs, fax needs, scanning needs, etc.
Does it have bi-directional communication capabilities, which will be needed if, for example, there is a print job running at the same time as IT inquires?
Determine the /total cost of ownership vs. the benefits/value offered.
Ease of connecting your new multi-function printer with the existing network.
Ease of use and the associate learning curve involved.
Does it offer any security features needed to maintain document integrity?
4 Highly Rated Laser Printers
Considering which printer to add to your office should probably begin there, with functionality. It might be enough, depending on your needs and present equipment, to buy a simple standalone printer with the capability to handle high-quality black & white, color, and photo quality print jobs. If you require something to handle more than one kind of job, or are looking to consolidate your machines into one, then a multi-function option is probably the way to go.
As with most office equipment, several manufacturers have lines of products that feature laser printing ability on its own or coupled with other features.
Hewlett-Packard – A well-known and popular brand that manufactures computers and monitors as well as peripherals such as printers and multi-function machines.
Canon – Another of the best-known brands popular as home office and business printers, offering a variety of options.
Xerox – The brand name that became so synonymous with copiers its name became a verb for photocopying, they also produce printers combining both features.
Brother – Most often associated with its wide offering of fax machines, the company also offers laser printers, often also combined with faxing ability.
Also keeping in mind the frequency of use as well as the volume of use are key factors to consider when evaluating the laser printing offerings of these and other manufacturers.
Top Laser Printer Review
| | | Laser Printer Reviewed | WiFi Capability? | USB Ports? | Resolution | Compare Features & Prices |
| --- | --- | --- | --- | --- | --- | --- |
| | | Brother HL-L8350CDW | | | 2400 x 600 | |
| | | Samsung Xpress M2070FW | | | 1200 x 1200 | |
| | | Brother MFC-L8850CDW | | | 2400 x 600 | |
| | | Xerox WorkCentre 3225/DNI | | | 4800 x 600 | |
| | | Xerox Phaser 3260/DNI | | | 4800 x 600 | |
| | | Canon imageCLASS MF229dw | | | 1200 x 1200 | |
| | | OKI MB472w | | | 1200 x 1200 | |
| | | Canon Pixma MG5620 | | | 600 x 600 | |
| | | HP LaserJet Pro 200 Color MFP M276nw | | | 600 x 600 | |
| | | Brother HL-L2300D | | | 2400 x 600 | |