Best
Trade Show Displays

| Side by Side Reviews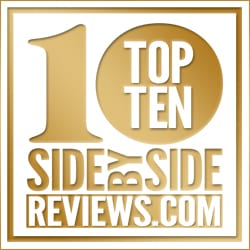 As trade shows have increased in popularity, so have the companies that specialize in making custom displays used at these events. When performing research to find a top-quality trade show display, comparing quotes is key to getting a top-quality product for the lowest price.
Here at Side by Side Reviews, we've gathered information on the top 10 trade-show booths and displays including user reviews and buying tips, and made it easy to find the best price from companies across the US.
Trade Show Displays – Buying Guide & Reviews
Trade shows can be an excellent way to make important business connections with future clients and those within your industry, as well as increase your company's public exposure. With this in mind, it is very important to make a great first impression and to attract trade show attendees to your booth; the best way to accomplish this is through an interesting and appealing trade show display.
When choosing a company to make your trade show display, make sure you take into account these key factors:
Quality – Imagine this: Your company is all ready for a day at the trade show, your excitement grows as you and your team get there early to set up along with the other businesses. Your excitement quickly turns to frustration when you realize that your pop-up display won't stay upright and your company slogan has been misspelled. Needless to say, quality is an essential factor to pay attention to when considering your trade-show displays. Before you partner with a company to create your next display, take a look at examples of the work they've created in the past. If you can put your hands on an example display, you'll avoid any unpleasant surprises on the day of the show.
Design – Another aspect to consider when purchasing a trade-show display is design. Your company has worked hard to build your brand and reputation and it is crucial that your brand message is translated flawlessly into trade show form. Creativity is one of the most important aspects of design because trade shows are full of businesses all vying for attention. Make sure your display has the creative edge to stand out from the crowd and express the individuality of your organization.
Price – The Center for Exhibition Research reports that obtaining sales at trade shows can be remarkably efficient. In fact, it is half as expensive as closing sales through other means. With this in mind, it's important to invest in the area of displays in order to maximize the sales that are closed via trade shows. When considering different trade-show display companies, ask them how their products have helped their clients succeed in the past. Then compare prices based on these tangible results.
Customer Service – A trade-show display is only as good as the company that created it. Even if the price, design, and quality are suitable, it's important to look at the company's track record of customer service. If you are headed to a trade show to showcase your product but your pop-up display is 2 days behind scheduled completion, it's of no use to you. A great trade-show display company seeks to build a partnership based on mutual trust that will allow you to exceed your marketing goals.
Next time you are strolling through a trade show, take note of the displays that are being used. Are they hindering the marketing process or enhancing it? Is it easy to read, well-designed, and made of quality materials? Did it catch your attention and invite you to ask more? These are the impressions that you want to convey to your target audience. When you evaluate trade-show display companies based on the factors that have been discussed, then you're well on your way to increasing your brand equity and sales through trade shows.