Best
Antivirus Software

| Side by Side Reviews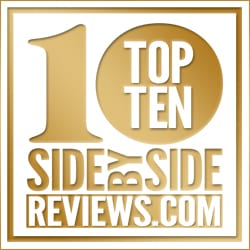 When it comes to finding the best computer Antivirus Software comparing quotes is the key to getting the best product for the lowest price.
We've gathered information on the top computer virus protection products, user reviews, and buying tips, and made it easy to get the best price on Antivirus Protection.
Top 10 Home and Small Business Antivirus Software 
Looking for the best of the best antivirus solutions for your home or office? Here's our review of the top 10 best antivirus protection software solutions.
Did you know that there's a hacker attack every 39 seconds? Although you might think that this only happens to corporations and other big establishments, a regular home computer is susceptible, too. It might even be more vulnerable because it doesn't have the right amount of protection.
If you have a small business, then you have more reasons to get a powerful small business antivirus program. It should be able to protect your computer and business' data. You can't rely on the free offers, even those by big brands.
For advanced home and small business protection, check out the best antivirus software below.
1. McAfee Antivirus Plus
McAfee Antivirus Plus is a great pick for either home use or small business use. With a single subscription, you can protect up to 10 devices. Its security features are on the competitive side of the digital market, too.
McAfee has full security features. This includes protection against malicious websites, dangerous downloads, and phishing attempts. It also includes a firewall, which you can customize on the settings page. It has other features like a cryptojacking blocker and file shredder.
The program is intuitive and gives you a lot of scan options. You can run a vulnerability scan, a user-defined scan, and such.
You can install McAfee on any device. This means it also includes features targeted toward the specific need of the OS it's running on. A one-year subscription to McAfee Antivirus Plus costs $59.99.

2. Kaspersky Total Security
Kaspersky has been around for years yet it remains to be one of the best antivirus software to date.
It offers total protection for your device. It blocks malware-hosting websites and spoofed URLs. For that, it uses cloud protection, database lookup, and heuristic analysis.
It also has bank-grade encryption. It has protection against online trackers, unauthorized access to your webcam, and more.
Kaspersky even offers an on-screen keyboard for when you have to enter sensitive data. This ensures no keylogger or any other program can capture your keystrokes. The program also offers security features for kids and password protection.
It has a free version that offers you a VPN with a 200 MB bandwidth allowance. For the paid version, though, you get unlimited bandwidth.
Its Total Security plan costs about $99.99 per year, which allows you to install it on up to two devices.

3. Avast Pro
Avast is one of the best free antivirus programs around, but when you go Pro, it gets even better. You get upgraded protection. You get added features like Wi-Fi inspection for preventing wireless poaching.
It protects you against all types of threats, like ransomware and phishing websites. It also watches out against hijacks on your DNS for safe banking. Its browser cleanup feature removes malicious browser extensions and toolbars for you.
If you have to connect to a Wi-Fi network, Avast Pro alerts you of any network weaknesses and intruders first. It has a sandbox for testing suspicious files, too.
The basics are still there, though. It blocks spyware, viruses, and other threats to your device in real-time. It's still the lightweight app you love, so it won't be using too much of your resources.
You can test it out first with its free trial of at least 30 days. If you happen to like it, you'll have to pay around $69.99 for one Windows PC device per year or $89.99 for up to 10 devices.

4. Sophos Home Premium
Don't let the name fool you – Sophos Home Premium contains the company's famed business-level tools.
It has powerful ransomware protection, giving you more protection against brand-new ransomware attacks. It also has protection against exploits, phishing, and webcam spyware.
Sophos has a free edition if you want to try it first. It already lets you protect up to three devices, but it doesn't include some of its most advanced features. All its features, including malware protection, digital protection, and so on are also shared with the Premium edition.
If you want the advanced features, you have to pay, but we promise it's not too expensive. Your $60 might only get you one license for most of the products on this list. But with Sophos, you can get a one-year license for up to 10 devices with that amount.

5. Webroot SecureAnywhere Antivirus
Webroot's best feature is its lightweight app, which only amounts to 2 MB. It doesn't have bulky updates either. That makes it best for computers with a slow internet connection and/or slow systems.
Its small size doesn't give justice to its capabilities, though. It provides adequate protection against malware, like ransomware, phishing, and so on. It blocks suspicious URLs and it has a user-friendly interface.
It also constantly monitors the network and firewall for attacks. Because it's lightweight, however, you might not even notice it's running. If you need more powerful features, it offers an Endpoint Protection plan for SMBs.
Webroot's price is also on the "lightweight" side, costing at least $39.99 for one device or $49.99 for three devices per year. It offers free trials, as well, if you're only curious how it works with your device.

6. Trend Micro Antivirus+ Security
Trend Micro Antivirus+ Security is great for home use with advanced protection needs. It protects users from online threats by blocking malicious websites, guarding against phishing emails, and more.
It scans the system and it boasts of multifaceted ransomware protection. Its Folder Shield feature prevents any program from making changes to your files. It lets you use trusted programs, but it warns you of any attempts at modifications.
What users enjoy most about Trend Micro, however, is that its interface is easy to use. It has a clean UI and provides clear status reports. This allows you to check the health of your system without complexity.
Trend Micro offers a free 30-day trial for users, which is enough for it to clean up your system. If you like it, you can upgrade to one of its plans, starting at $39.95 for one device for one year.

7. AVG Business Edition
This product by AVG is another endpoint security solution. It's aimed toward small and medium-sized businesses.
It has full-time antivirus and anti-malware protection. It protects your device against threats like viruses, ransomware, spyware, and spam. It also includes firewall protection, which then protects your business data.
Apart from those, AVG also has email and web protection. It allows you to use the internet without the worry of dangerous websites and downloads.
Its Linkscanner checks the URL of every website you visit and then shows you its safety ranking. Its Cyber Capture takes care of the downloads. It sends a copy of every file you download to the experts who will then assess its safety.
It encrypts your sensitive information, as well. The app stores them on a virtual disc on your PC that's password-protected, where they're better protected against attacks.
For one computer, AVG costs about $44.99 a year. The price goes up to $1,109.99 a year for 50 computers.

8. Bitdefender GravityZone Business Security
Bitdefender is a known small business antivirus program for its all-around effective protection. Its GravityZone Business Security, in particular, is what you need for your small business.
It's a web-based app, meaning it uses the cloud to do its processes. That enables the app to use machine learning and AI to better protect its users.
The program can continuously watch your network and prevent threats. If it detects a threat, it communicates with the cloud.
It then relays this information to other networks. This action results in a faster response to new threats.
That aside, Bitdefender has all the works of a good antivirus program. It detects and blocks ransomware, Trojans, phishing software, worms, rootkits, and so on before they deal with damage to your network.
It also extends its protection to your internet activities. It blocks malicious websites and such. It has an e-mail protection feature, as well, that blocks harmful downloads.
It has other basic plans for home use, too. For $39.99 a year, you can get Bitdefender for one device, but it goes up to $127 if you want to protect 10 devices.

9. Symantec Norton Small Business
For home use, Norton has an Antivirus Plus plan, which is an entry-level antivirus program. For businesses, the Small Business plan is perfect for you as it allows protection for up to 20 devices.
Either choice will give you the kind of service Norton is famous for. It offers superb protection against threats ransomware, spyware, viruses, malware, and more.
Norton also protects you online. It makes sure your log-in credentials, credit card details, and other personal information are safe from prying eyes. If you want to download something, the program will first scan the download and warn you if it detects a threat. It also blocks you from visiting malicious websites.
It has a lot of scanning options, allowing you to customize your device's security. You can run it on demand or set up a schedule for its scans. It runs 24/7, however, making sure you're always protected.
Its plan for five devices costs $99.99 a year. If you have more computers to protect, you can get it for 10 devices for $149.99 per year or $249.99 a year for 20 devices.

10. Symantec Endpoint Protection
If you're a fan of Norton, you might also want to try another one of Symantec's products – the Endpoint Protection plan. It's a bit more sophisticated than Norton as it has a different way of attacking threats.
This app stops any attack on any of its 175 million endpoints across the globe. It looks out for the usual malware, ransomware, and zero-day exploits. But before it stops the threat it leads the attackers first to what they call the "decoy minefield."
This decoy minefield allows the attacker to reveal their tactics. This allows Symantec to study the threat more before they stop it. They can then use this intel for other future threats.
It has other features that can help your network run more smoothly, too. It can reduce the workload on the network.
Symantec's Endpoint Protection Cloud costs around $2.5 per month for each device. Its Drive Encryption plan, however, starts at $9 per month.
Choose the Best Small Business Antivirus Software
The best home and small business antivirus software for you is the one that caters to your specific needs. Find out what those are first before you compare the best products we listed above.
Side-by-side reviews and comparisons help. Check out our other articles for more, like our top web hosting services.
Which anti-virus software do you think is BEST? WORST? Write your review here.
Antivirus Software Review