Best
Commercial Fire Alarm

 | Side by Side Reviews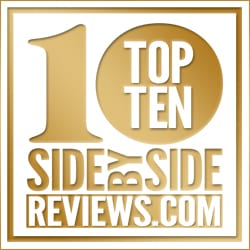 When it comes to finding the best Fire Alarm comparing quotes is the key to getting a top product for the lowest price.
We've gathered information on the top 10 fire alarms, user reviews, buying tips, and made it easy to get the best price from companies in your area.
Best Commercial Fire Alarms: Ranking Fire Alarms For Your Business
1. Honeywell
Honeywell is one of the most trusted commercial fire alarm system brands in the market. That's for a reason: they make an excellent commercial fire alarm system.
Their system covers all bases. Fire safety, security, and automation for homes and businesses – you name it.
This company has provided over 100 years of efficient security solutions. It's never a simple fire alarm when it comes to them. Rather, you get intelligent holistic systems.
Pros of Honeywell Systems
The pros to Honeywell are the sheer level of security they provide your business. Their systems are comprehensive and holistic. Systems like Total Connect 2.0, Honeywell Access, and more give you a range of options.
The protection that Honeywell solutions provide justifies the cost of their commercial fire alarm.
Cons of Honeywell Systems
The main problem we have with Honeywell is they don't offer monitoring services.
Most of their products are purchasable through authorized dealers. This means you can request third-party monitoring instead.
Honeywell also takes care of the monitoring parts of its business through automation. Systems like Honeywell Notifier and ProWatch are not your traditional monitoring. They're automated solutions that allow security groups to provide safety monitoring.
Another drawback with Honeywell is its cost. Depending on the setup, their solutions can set you back by a lot. Small businesses should make a significant investment if they go with their solutions.
2. Edwards Signaling Solutions
Edwards Signaling Solutions are some of the best fire alarm automation nationwide. If your goal is to make sure your security gets full automation, this is the right company.
What's good about Edwards Signaling is their straight-up design. Their design philosophy involves systems that can simplify operations, installation, and maintenance.
They're the choice option when it comes to retrofitting old systems as well.
Pros of Edwards Signaling Systems
What we like a lot with Edwards Signaling solutions is simplicity. Their answers look antiquated at first glance, but they work. Simple alarm bells, fire extinguishers to intelligent alarm systems are available from them. For your business, this means scalability.
Small businesses can get lower-cost solutions for their fire safety. In the same vein, more prominent corporations can get their smart systems. This means they're scalable, which is good news to anyone who wants their services.
It's not complicated to learn the system as well. Simple automation solutions can work.
Cons of Edwards Signaling Systems
The main disadvantage of using Edwards Signaling is its analog offerings. Unlike Honeywell's digitized solutions, Edwards has fewer sophisticated systems.
They rely on module integrations. These can be a headache for customers who have newer fire alarm systems.
Like Honeywell, Edwards is a product manufacturer and does not provide monitoring services. Most of the notification and monitoring will be through the equipment.
3. Siemens Fire Safety Solutions
Siemens Fire Safety Solutions is among the better commercial fire alarms out there.
Their system comprises two types. One is an addressable fire alarm system and another is an automated fire alert.
Their system can address up to 4 zones. This makes them perfect for factories, manufacturing plants and office spaces.
Most of the offerings by Siemens come at particular combinations. They're either panel only, peripherals only or complete solution. This level of choice lets you pick between what works better for your purposes.
Pros of Siemens Fire Safety Systems
The advantages of using Siemens comes from their panels. Their panels like the Firefinder XLS are among the most robust alarms.
It fires an initial signal for evacuation in the event of a blaze. It can then notify administrators if it is safe to access the area near the panel itself. Once it confirms that the path to the panel is clear, it will send a later signal to its admin staff.
The panel's zoning protocol can then tell where the fire is, and let the safety officers address it fast. The system's sensitivity to fire activity is perfect for early warning and detection. This can then prevent any further escalation.
Cons of Siemens Fire Safety Systems
There are minimal drawbacks to the Siemens Fire Safety Solutions kits. Even in total loss situations, the system can run and provide logs of the entire incident for future use. We have almost no gripes with it.
One of the possible issues we see is its level of sensitivity. Due to this safety feature in the system, it can be more prone to false alarms. This can be problematic, considering up to 58% of emergency requests are false alarms.
False alarms can harm operations and the business itself. They can result in lost hours of productivity and a lower bottom line. This can also lead to a cry-wolf attitude within the industry.
4. Tyco Fire Alarms
Tyco is one of the industry leaders in life safety and fire safety solutions in the USA. They provide almost everything. From simple fire extinguishers to sophisticated access and network controls, they have it.
Tyco fire alarm systems have solutions for both various business scales.
At the most basic level, their smoke and carbon detector modules are inexpensive and easy to use. At commercial levels, their goal goes more to quick responses and fewer distractions.
Pros of Tyco Fire Alarms
What Tyco has going for them is scalability. They have a product for every type of fire safety crisis, so you know you can find a solution that fits your niche. At the very least, the addressability means less work for all parties.
From their fire extinguishers to their smoke detectors, they have stability. More stability to their devices means less false alarms. Less false alarms mean higher system integrity and thus higher effectiveness.
Cons of Tyco Fire Alarms
If we can think of any disadvantages with Tyco products, that's their presence in the market.
Their current position is fourth in the global market share. Even then, they are not as ubiquitous as their competition. This is due to the cost of their systems.
Similar products in their offering in comparison to Honeywell cost more. It does not help that they have a weak focus on small and medium businesses too. This leads to a more top industry focus.
5. Bosch Fire Safety Solutions
Bosch is one of the most well-known products in the industry, and also the most modern. Many of their fire alarm products follow the lead that Honeywell is paving. Their systems follow a more modern design approach.
All their systems combine to address small and big needs in industries. They do so together with modern testing and technologies. Their offerings for their commercial fire alarm system are huge.
They offer everything from smoke detectors, video-based fire detection, and many more.
Pros of Bosch Commercial Fire Alarm Systems
Bosch is easy to appreciate due to their more modern technology. They use current emerging technologies as a basis for their fire alarm systems.
One of our favorite offerings from their line of products is the Remote Services over IP feature. With this, they allow for remote monitoring and live fire system data. This without the need for a fire security officer on the premises 24/7.
With these remote services, faults and alarms go to the appropriate admin staff. It keeps the people in charge up to date and provides remote support on the field when needed.
Cons of Bosch Commercial Fire Alarm Systems
As with any emerging technology, the cost is the greatest hindrance in the value of Bosch systems. The design approach of Bosch caters to top-tier large-commercial solutions. This means small and medium enterprises may want to think twice before buying.
Their systems may also need large-scale network infrastructures to work. This is due to their automation and remote services over IP. There is very little chance for hacking, but it's there.
6. United Technologies Fire Safety & Security
United is among the top leading fire alarm and fire safety businesses in the world. They're in charge of various brands like Edwards Fire Safety, Kidde, Det-Tronics, and Supra, so their market is wide.
Their fire safety systems include fire detection systems, fire surveillance products, fire detection, and fire suppression technologies.
Pros of United Technologies
United Technologies is ubiquitous, and its products are everywhere in the market. Due to having smaller brands within their umbrella, it's easy to source them from third-party installations.
Another pro that we love is the scalability of United products. Their scale goes from home, small business and up to corporate, so there will be a commercial fire alarm system for every need. Their products are easy to use, quick to replace and there will be expert support whenever.
Their fire alarm system is easy to integrate. Their fire extinguishers are also easy to retrofit in your current fire safety systems and will fit any business model.
The products that United Technologies offers tend to be on the inexpensive side of the spectrum as well. This is useful to small businesses who are on a slow transition toward fire safety improvements.
Cons of United Technologies
If there's any drawback to United Technology's fire alarm systems, it's the sheer amount of brands under their belt. Every product category they have has 3 to 4 brands under it, with different levels of quality and use.
Unlike Bosch who has unified systems, United can become overwhelming and ineffective if you don't consult their technicians and experts.
Buying Guide to Fire Alarms
Are you looking to purchase a commercial fire alarm?
Blazing fires are serious business – here's why. A working fire alarm can mean the difference between life and death for your business.
Every year, workplace fires and explosions kill up to 200 people. Fire-related injuries run as high as 5,000 workers each year. Let's not even talk about the extreme damage to property.
A fire alarm can reduce your risk of fires. It can save your people and your business, so you only want the best commercial fire alarm as protection.
Want to go for the best one? You're in luck. Today we compared all commercial fire alarms in the country and picked out the best of the best.
This is the most definitive business fire alarm you will see on the internet. Keep reading and find the right one that will save your business.
What to Look for in a Commercial Fire Alarm
When reviewing fire alarm systems, there are some considerations that you need to do. When looking for a fire alarm for your business, you should look for:
Equipment warranty
Addressability
Cost
Function
Monitoring fee
All these factors lead to a single goal, which is to prevent a crisis. The goal of a proper alarm system is to make sure a fire disaster never happens. If the business takes the fire out before it gets bigger, that's solid fire protection for you.
The equipment warranty is there to protect you. This may be from unnecessary damages or equipment failure. This will save you a lot of money in the long run.
Monitoring fees are what you pay for fire security firms to take care of your business. This ranges from $50 to $250 per month, depending on the product.
The ideal setting is to have a combination of all features while keeping costs at bay.
Battery Operated vs Hardwired Fire Alarms?
If you want convenience, a battery-operated fire alarm is an optimal choice. It only takes a few minutes to install them and maintenance is only a matter of replacing the batteries.
Hardwired units are more complex since you have to connect them to your home's power supply. They do have one great advantage: they are all interconnected. If one alarm sounds off, the others will follow suit.
Types of Smoke Detectors To Consider?
Although there is a wide variety of sub-types, you can generalize all smoke alarms into two categories:
Conventional detectors are all hardwired together. As soon as one alarm sounds off, the others will follow. However, there is no central hub for you to monitor these detectors, meaning you won't know which alarm detected smoke first.
Addressable alarms work around this issue. They're more complex and more expensive but they have a central unit you can check. This lets you pinpoint which alarm – therefore which room in your building – sounded off first.
Most commercial buildings use addressable detectors because it saves time. Firefighters can head straight to the source of the fire and fight it before it spreads. They won't waste time looking for it.
How does Fire Alarm Monitoring work?
Fire alarms have a section called the ionization chamber. When the smoke from fires rises and enters this section and alters the air density. This change triggers the alarm.
However, not all fire alarms work as intended. The cheaper units are a bit too sensitive. Their ionization chambers can't distinguish smoke from other air-altering invaders, like small insects clogging the chamber, meaning even bugs can trigger the alarm.
How to Choose the Best Commercial Fire Alarm Systems
When discussing the top commercial fire alarm systems, the idea is to go for a fit in budget and goals. Matching your small business with large-scale fire alarm systems is a waste.
Consider your needs. See if you need a basic fire alarm or sophisticated fire extinguishers.
Can you support the infrastructure? Will you have the manpower to take advantage of the system?
A commercial fire alarm is no joke. It is the fine line between business growth and property loss. Make sure you have the best system that does the job.
If you're still unsure, consult our list of the best top fire alarm systems at Side by Side Reviews.  Side by Side Reviews lets you compare big businesses and compare quotes, so you know what you're getting.
Important Notice: Ratings, comments, and reviews on this website are for informational purposes only. We do not endorse any of the companies or products listed here.
Tips For Getting the Best Fire Alarm System
When looking at a fire alarm review there are many items for consideration, especially since lives are being protected by the system you select to monitor your school, home, apartment, or commercial business. An installed or wireless fire alarm system can be added to your home or commercial business security system to make the building safer for all occupants. A fire alarm system can be as simple as having smoke detectors installed in your home or as complex as the protection for a multi-story apartment building or factory. A fire alarm system will have smoke detectors, sounders for signaling the alarm and those for businesses will also have a sprinkler system or a suffocating system to stop the fire from burning that can be activated to start putting out the fire when the alarm goes off. Many systems will also set off an alarm at the fire and or police station.
A commercial fire alarm system is used to protect both the occupants and the building from fire. All of our homes need to have smoke detectors that are connected to the power so they will work even if the battery is flat. They still need battery backup for when a fire breaks out during a power failure or outage. A smoke detector is an early warning system to rouse the occupants of the premises if they are asleep or busy working. You get out of the premises at a safe distance and then call the fire brigade. The smoke detectors are located in passageways and all rooms so everyone will hear the sound.
The best fire alarm system used for a commercial alarm system can have several features that are dependent on the activities being carried out. They can have smoke and heat detectors, manually activated warnings, control panels, flame detectors, sounders with strobe lights, and a recorded warning message.
Common and highly needed monitoring systems are those such as school alarm systems and apartment alarm systems which are generally available from manufactures like Honeywell, Siemens, Edwards, and Simplex alarms.
One suggestion when looking at a fire alarm system is to decide what needs to be saved, people or buildings. If people are the main priority such as in a home, smoke detectors are sufficient to allow everyone time to get out of the house. Detectors are placed in bedrooms and rooms that contain flammable objects such as a library or a home office.
Another item for consideration is whether you want the alarm to trigger at the fire station or police station as well as in the building. If you have a large building with lots of offices and the main computer room you will probably want some sort of substance apart from the water that will stop a fire from spreading out of the room and burning up the computer system. As well as smoke detectors you can have manual alarms that can be activated at the first sign of smoke or fire. These will alert the rest of the building to a fire on your level and in your office. A trigger at the police and fire station will have help on the way very quickly. They do usually call to make sure there is an emergency as a false alarm call out can be expensive.
As always when searching for the best fire alarm system it is highly recommended that you read fire alarm reviews and compare the prices of the top manufacturers.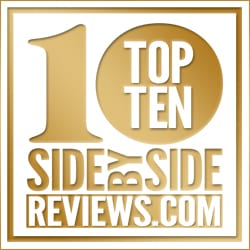 Is Your Business in our Top 10? Brag about it and post your Top 10 Badge on your website.
Find and compare the top ten Alarm Systems for Fires and read customer reviews from these and other real people. Help us rank the best Fire Detector Solutions and write your own review. Simply share your experiences at the bottom of this page.
Request Side-by-Side Fire Alarm Quotes to Compare and SAVE BIG.
Which company, product or service do you think is BEST? WORST? Write your review here.